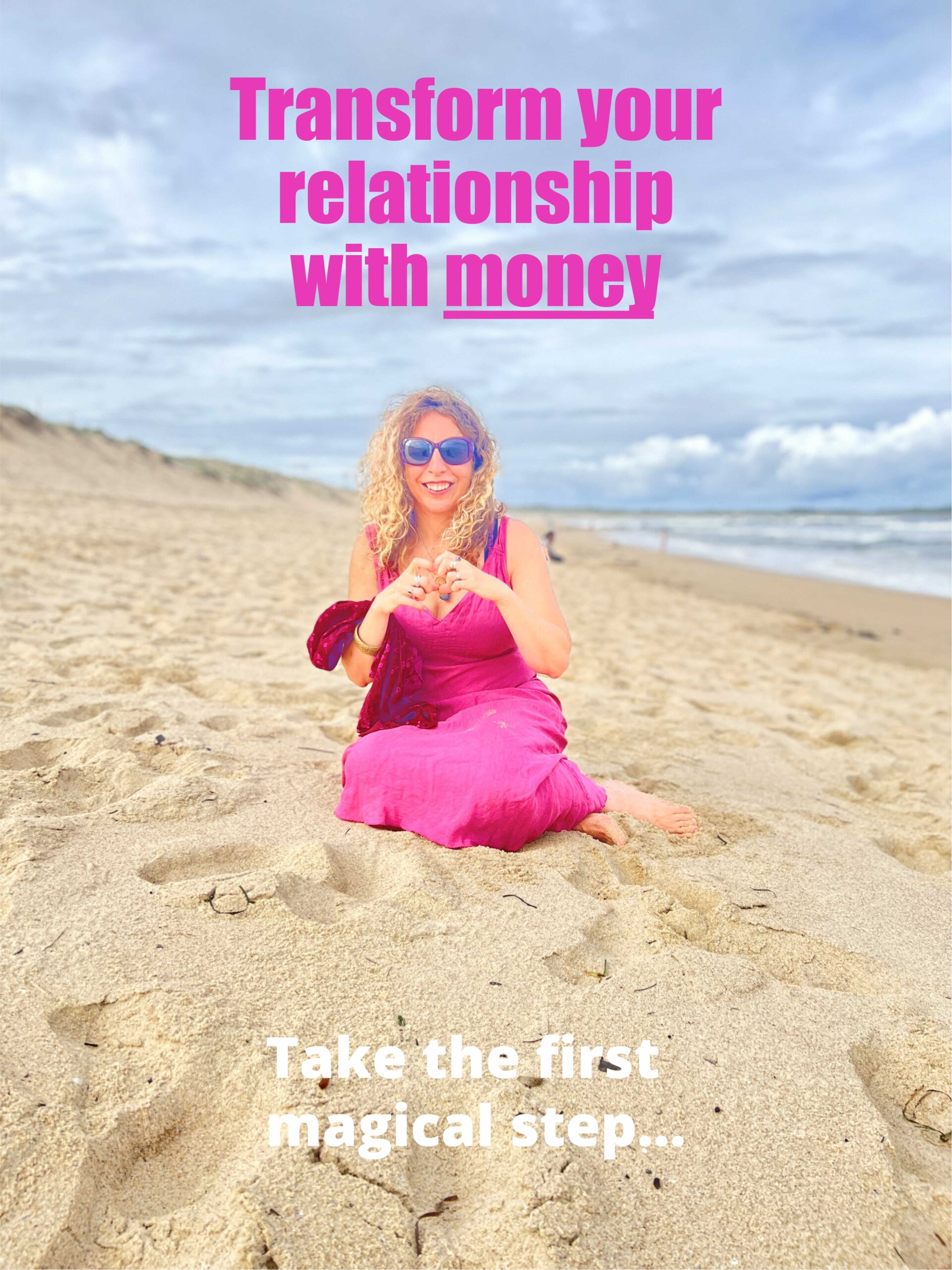 When was the last time you sat down and REALLY explored your relationship with money?
Do you know how you really FEEL about money? How do your thoughts about money relate to the ACTIONS you take each day?
Radical times require concerted action. I believe we are in one of those times.
It is probably more important than it's ever been before to get your life in order and to learn to be empowered and self-sufficient. Nowhere is that more poignant than with your finances. With financial independence comes power. Power to live on your own terms and to your own rules.
My purpose is to help people unlock their own latent power, and then help them unleash that power by building wealth and financial freedom.
DID YOU KNOW…
There are 6 key aspects to a wealthy life. Each strong in its own right, but together form a POWERFUL combination, like alchemy….

We each have a unique blend of experiences that shape our blueprint about money. Every incident. Every story. Every comment that someone makes about us. The things that happened to our ancestors. It all goes towards how we BEHAVE around money. Money is so intrinsically tied in with the way we feel about ourselves. Did you know that up to 80% of people subconsciously push money and opportunities AWAY, because deep down they believe they're not worth it?
In this programme, we go in DEEP, and get to grips with your real relationship with money. Understanding the traumas that have lodged in our systems, creating negative associations about money and about ourselves, wreaking havoc with the decisions that we make.
With this new understanding, we identify and heal the attitudes and emotions that aren't serving you and instead install EMPOWERING beliefs, reprogramming the way you interact with and view money.
It's totally foundational to success, forging a new improved relationship with money, opening you up to a whole new set of opportunities. Life seems to get easier. Opportunities are more likely to come your way. This time you feel ready to wholly embrace the ones that resonate.
Clients often say to me that this is the first time they've ever told their money story to anyone. That alone is healing. But then creating a new relationship with money is so empowering, it spills over into other areas of their life, improving their mood, relationships, buying back time and even improving their general health, with their ability and willingness to clean up their diet and look after their body better.
It's a virtuous cycle, with each part of our lives impacting the rest, as highlighted in our EQUILIBRIUM Model of Total Wellbeing.
But we don't stop there!

Did you know that there are many ways to make your life easier when it comes to attracting wealth?
Imagine walking outside on a blustery day. Life is so much easier when you have the wind behind you, rather than battling against it. So you need to have the world work WITH you to attract the lifestyle you seek.
As a result of YEARS of research into the most effective strategies for attracting wealth, testing each one for its effectiveness, we've curated the very best and brought them together into this POWERFUL module.
No stone has been unturned to put together the very best PROVEN strategies for attracting, keeping and growing wealth, using both modern and traditional modalities.
We demonstrate the best techniques and practices and get them working in YOUR life.

With data comes clarity and with clarity comes control.
And there's nothing like feeling in control of your money! It gives you that sense of freedom and that sigh of relief, knowing that you aren't being wasteful and just leaking money away.
Just like a business wouldn't operate without an understanding of their key performance indicators, so you need to understand exactly where you are with regards to your income and outgoings. The whole equation needs to WORK, and if it doesn't, we can uncover what needs to happen to make it work for you.
This level of understanding brings a real sense of KNOWING your next course of action. So, we spend this module really getting to grips with how you spend. What you spend is totally eye-opening and can tell you so much about what your priorities are, and also where the leaks are in your money bucket. It's an empowering and illuminating process and this exercise has long-term effects.

If your car was burning too much petrol to get from A to B, you'd take it to the garage to get it tuned to the optimum level, making it operate more efficiently and cost-effectively.
The same applies to your money.
There may be areas where you are not being as efficient as you could be. We explore ways that you can get more out of the money that you have. We also help you identify where savings can be made, and introduce PRACTICAL empowering techniques, to create real savings. Savings that can then be put to work to grow your wealth in the background. And, we teach you how to do it joyously!
By operating in a leaner way, you can ensure that every dollar is spent consciously, and not randomly or on autopilot.
This module alone with provide invaluable and provides immediate results in your life.

Next up, we get into the exciting area of GENERATING more wealth and show you the various ways you can do that.
We outline the best ways of getting passive income and how to build an optimal portfolio of Investments. You will understand how to build a variety of MONEY TAPS, all working in the background to pay you, regardless of how money hours you work, or indeed how hard.
The goal for this session it to teach you to set up your life so that these money taps eventually pay for your lifestyle costs, leaving you the option of working for joy rather than necessity. This clearly will not happen immediately, but you will learn the principles so you can apply them to your own life.
We show you how to work in a STRATEGIC way that is balanced, with protections in place, so that you can sleep well at night, knowing that your money is continually working FOR you.
We love investing and hope that you will learn to love it too – this truly can turn into the most lucrative and fun hobby for you!

Our final session is very practical.
We start with opening an investment account, making some live trades and learning exactly what to look out for when making investments.
We also show you ways to select what to invest in, with optimal combinations of asset classes and example portfolios so you can see how it's done. And, how to do some of your investments on autopilot, using modern easy-to-access tools (even AI!), which truly generate passive income.
All of it being achieved with safety in mind.
We want you to leave knowing exactly what to do to get into action straight away. Or, if you choose to employ others to help you invest, that you know what good looks like, and can enter into the relationship from a position of understanding and power.
Your future wealthy life starts here!
Bringing it all together
This whole process is designed to EDUCATE and EMPOWER you in your pursuit of a wealthy life, bringing together every aspect of wealth creation together, consciously, so that they amplify each other, MAGNIFYING the results exponentially.
You will operate with your eyes wide open, more powerful than before, knowingly working WITH the elemental forces, rather than being blown around by them like a boat in the high seas.
We invite you to come on this MAGNIFICENT journey with us. You will never look at money the same way again, and you will be able to take your new-found skills with you for your whole life, building on them and growing as you go.
It's been a lifelong work of PASSION, and we hope that our enthusiasm and joy for the process of wealth creation is passed on to you, to create your own joyous, magnificent, fulfilled, wealthy life.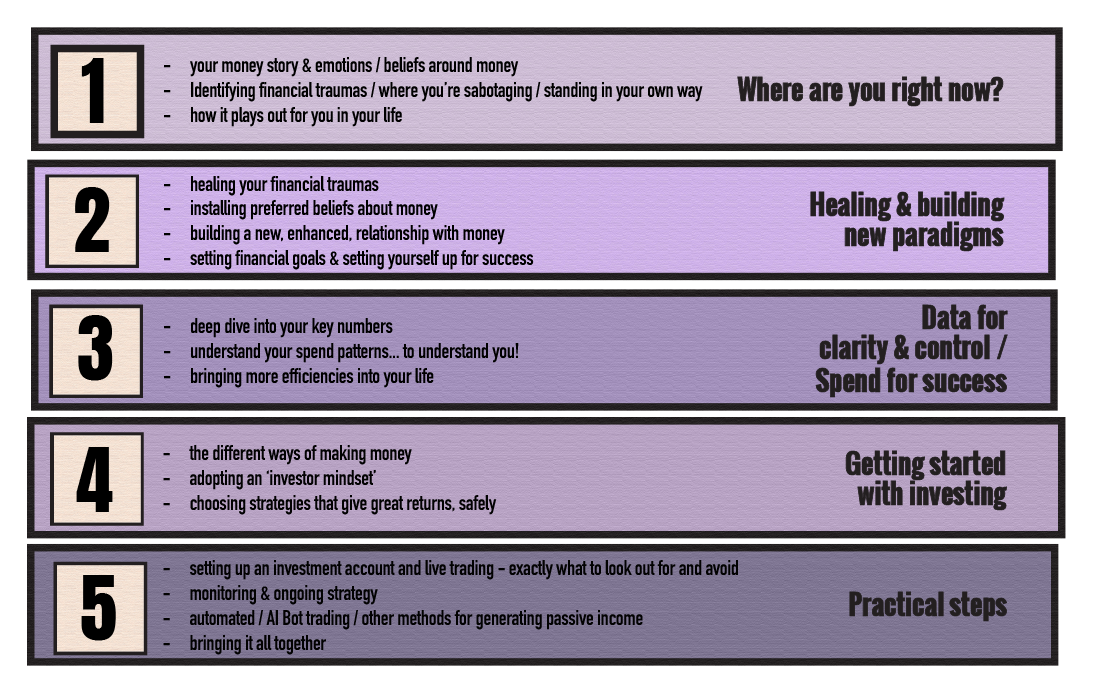 Some words from some of our clients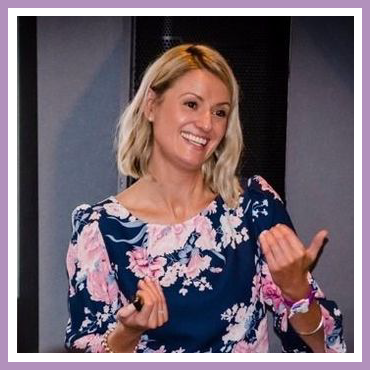 Thank you so much Heather for such a wonderful course! I absolutely loved the Foundations of Financial Freedom course and gained so much from it.

It has really improved my relationship with money but in particular allowing it to be easy. I loved the mindset work and then the learning about trading! I used to be overwhelmed by trading and felt I didn't have what it takes. All I needed was you to explain it so simply and with such love and passion.

I took the learnings on straight away and starting making money right away! This will continue to grow and I am so excited for this new journey of allowing money with easy and grace. Thank you so much, I highly recommend this course if you are ready for more financial ease.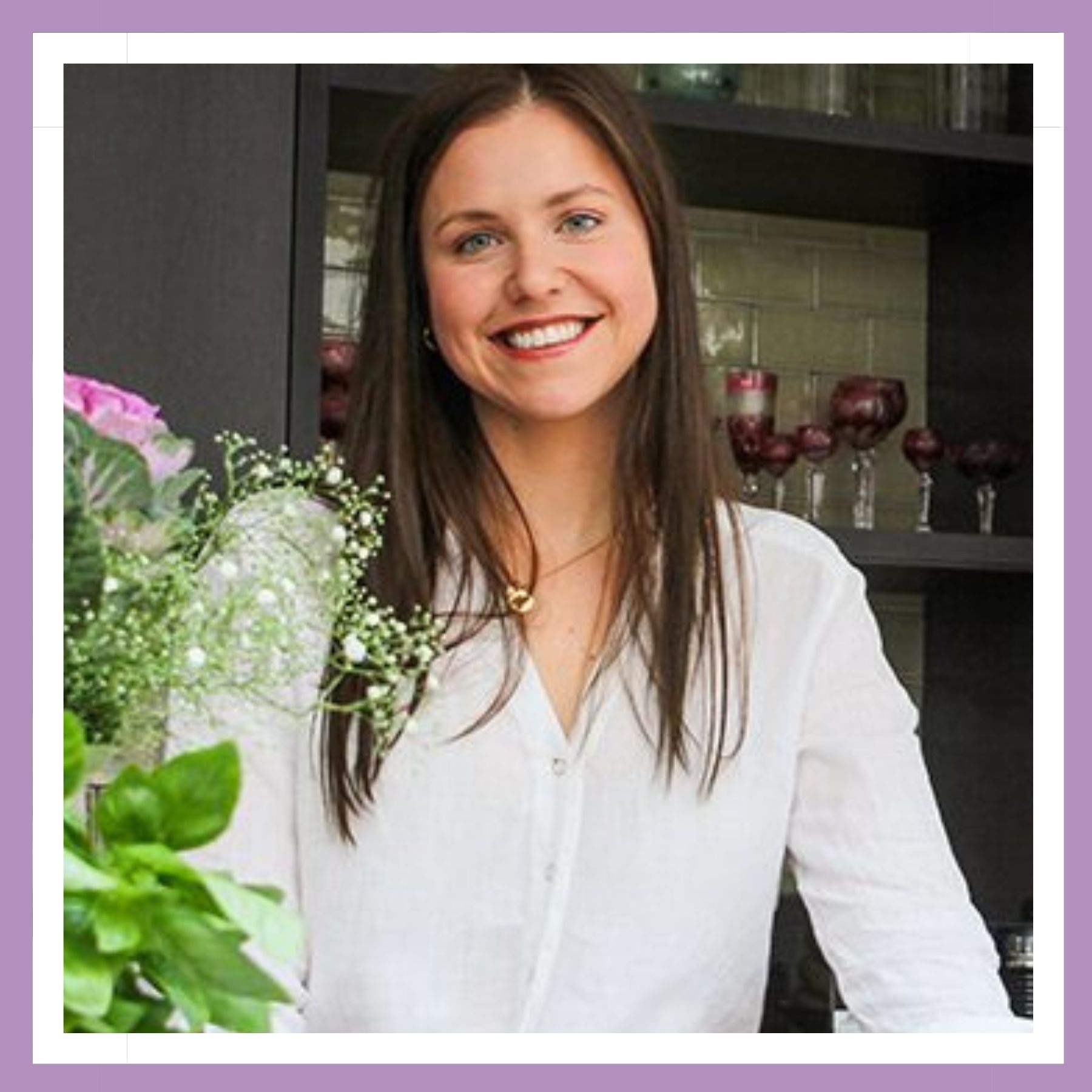 I recently completed Heather's financial coaching course, and wow! Working with Heather has been an incredible, eye-opening experience! I've always struggled to manage my money; I've always earnt good money but it's disappeared just as fast as it's come in. Heather has given me a whole new perspective on wealth creation, how to manage my money, how to plan for my future – and why it's important!

Investing and stocks is never something I thought I would tackle because it felt too hard and confusing. Heather totally broke down those misconceptions and I now feel confident enough to start building a portfolio for myself – it's been an absolute game changer and turning point for my future.

Heather is also incredibly warm, patient and kind – a real pleasure to work with. I would highly recommend her course to anyone who has struggled to manage their money, who wants to invest but doesn't know where or how to start, and who wants to build long term wealth for a prosperous future.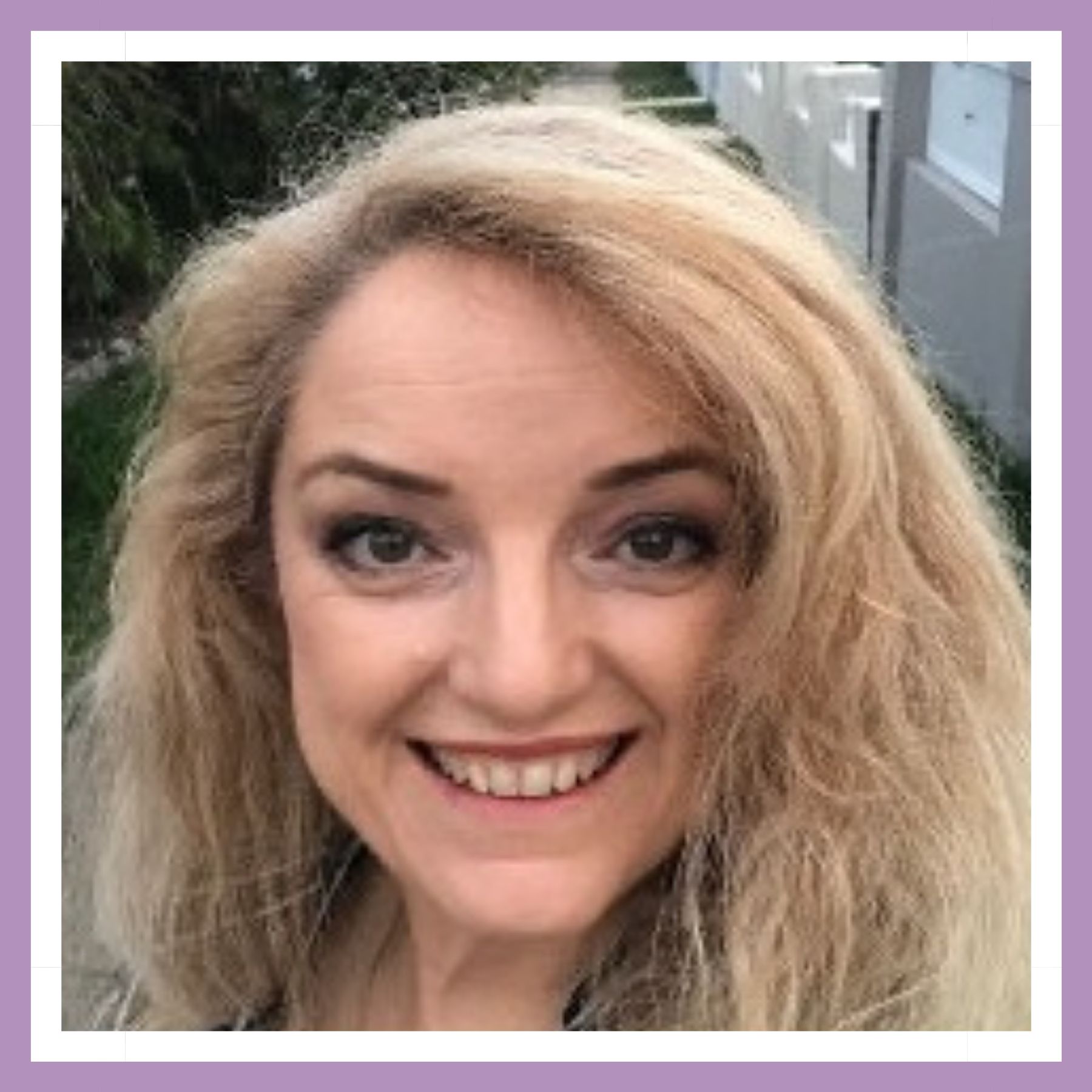 With Heather's help I was able to get clarity and organisation of my mental and emotional decisions and change my poverty mindset and practical skills around money. I also experienced energetic shifts and beliefs on a deeper level. I am making radically better and wiser financial decisions due to the exercises and skills around investing with my personal finances. With her insight and guidance I've rewritten some damaging hidden core beliefs to much healthier ones around wealth management and creation.

100% happy customer!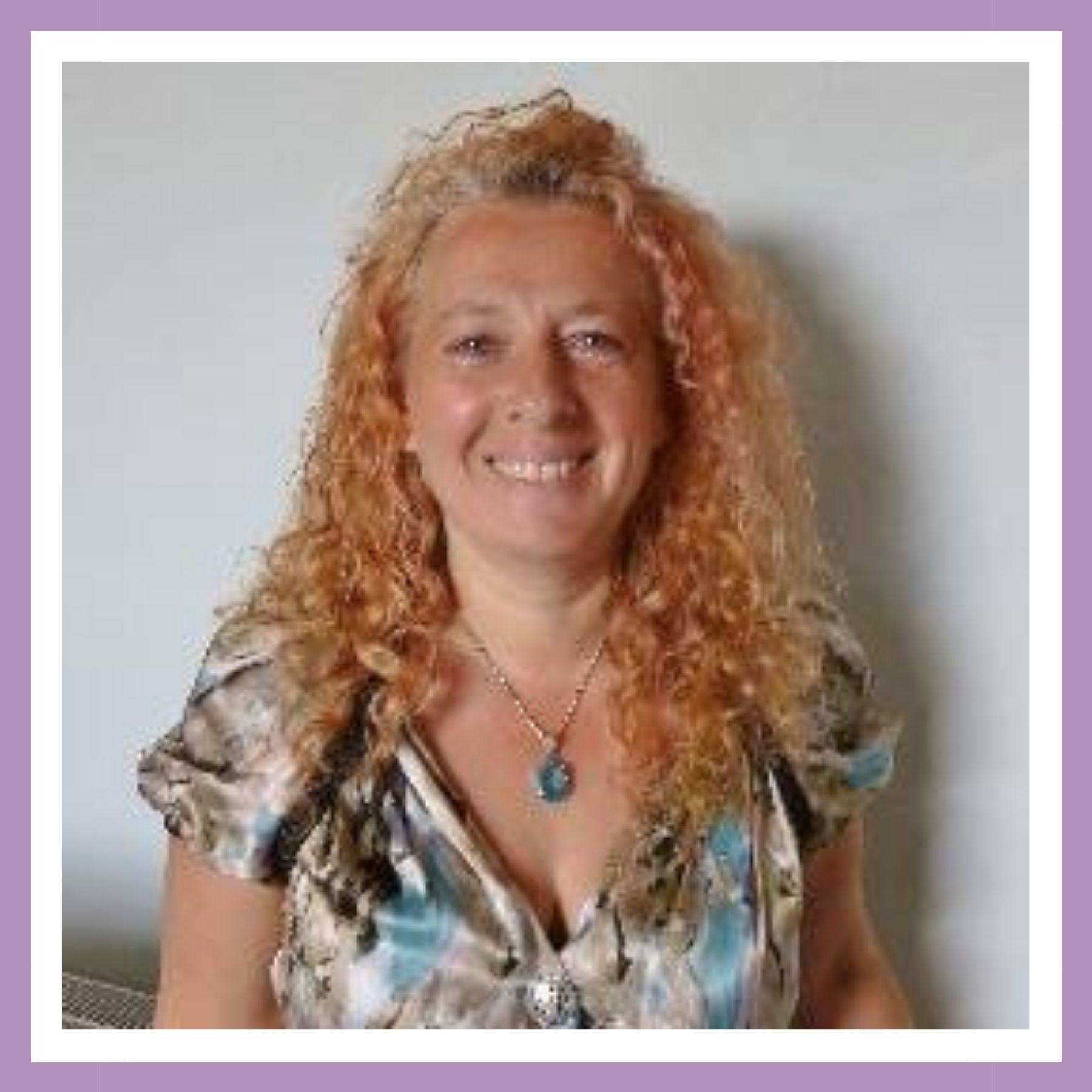 I've been working with Heather Mitchell now as my financial coach for the last 18 months and it's been a wonderful experience. We've worked on lots of different aspects, including the psychology. And through doing that I've finally learned how to grow my wealth and what was holding me back. She's worked with me to put budgets in place which has saved us a huge amount of money – we've actually saved thousands.

I have in the past invested in other assets, but what I've done is I've been too scared, so I've waited until the prices have gone up to get in and what's happened is that all the growth's already happened. But what Heather has been teaching me is how to identify trends, and how to get in early before it's at its peak, so that we're actually making money on the GROWTH of that investment. She knows her stuff. She's just been doing this for many, many years. She is an amazing researcher, is very solid. I wouldn't hesitate to recommend her.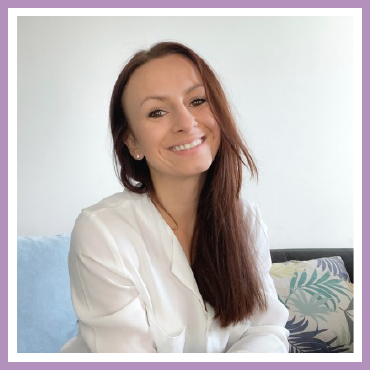 I would recommend Heather to anyone who is looking to bust their limiting beliefs around money and unpack their 'money stories'! A session with Heather has been valuable in understanding some of the limiting associations and stories I told myself about wealth creation and what is possible for me. Heather's curiosity, gentle presence and genuine interest to support is what made my experience really positive and I will definitely be back for more!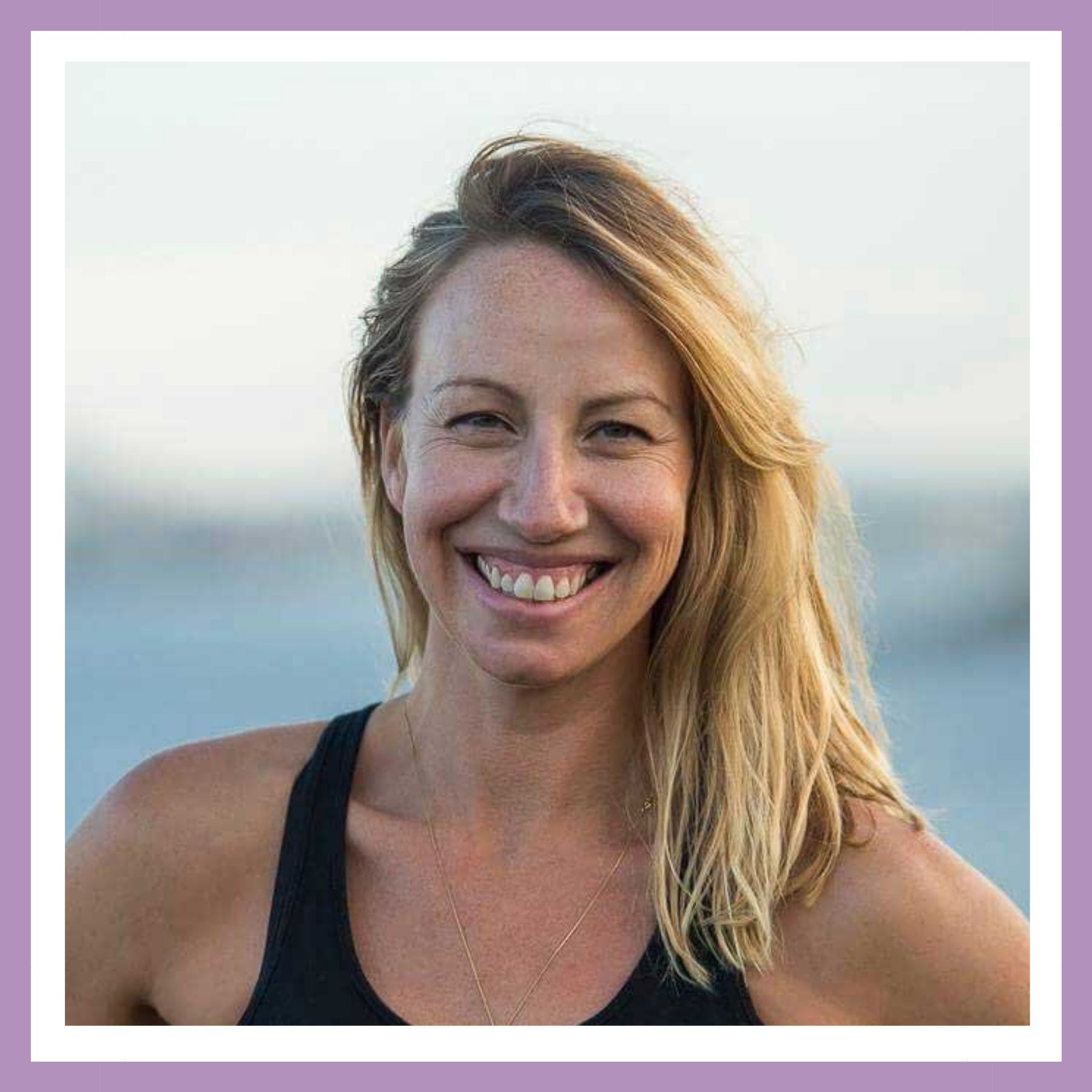 I have thoroughly enjoyed working with Heather over the years on numerous events and workshops. Heather is a very passionate leader when it comes to the subject of money and wellbeing. She magically combines the 2 in her delivery. And provides excellent guidance and support. She is fun and relaxed to work with. And has a genuine interest to help set people up for success in the future

Heather Mitchell was blessed to have a forward-thinking father who shared his investing knowledge and practices with her as a young child. Even as early as age 6, she remembers listening in to the discussions he had to his 'financial advisor' (the local life assurance salesman) and they would knock heads together to discuss which investments to switch into at different times, depending on the economic environment they found ourselves in.
This has turned into a lifelong passion these past 4+ decades and Heather has, over time, learned to invest in a whole variety of investment vehicles, using a wide range of techniques, and has had results averaging 20% per annum over a 10 year period. One of her superpowers is being able to find the investments that work, whatever the economic backdrop, and she has put this knowledge to work over the years.
It became apparent that not everyone had this knowledge, and she also realised that it not only affected people's bank balances, also impacted their mental and physical wellbeing and the amount of time they had to enjoy life and to do things just for them.
So it then became Heather's mission to pay it forward and help others to have the rich, joyful life that they deserve. She loves to help people to understand their own attitudes and behaviour patterns when it comes to money and to build them up to transform their mindset and knowledge and, consequently, their experience of life, both from a metaphysical and practical perspective. Her whole philosophy is to help people with their holistic wellbeing, not just the money in their bank accounts.
Contact us today to see if you qualify for this life-changing course, and find out about our latest offers.
We offer this programme one to one throughout the year and occasionally run it as a group programme.
Numbers are strictly limited and aimed at people with the right mindset that are ready to do the work needed to truly transform their life. So contact us today to see if you are the right fit!
The one to one package includes:|
– 5 x 2 hour online Zoom calls, tailored to the client's specific needs (6 x 2 hour calls for couples)
– Write-ups and further analysis after the sessions
– Homework to supplement the learnings
– Whatsapp assistance throughout our time together
The group package includes:
– 8 x 2 hour online group coaching sessions
– a Whatsapp group to share ideas and insights with the other members of the group
– a buddy system to provide additional support to each other throughout the programme
– the ability to book additional one to one sessions with Heather at a significantly reduced rate
Note: we usually find that our clients gain back the course fees just from their newly gained money habits – let alone their new wealth building skills. A true investment into the future.

COURSE LENGTH:
Individuals: 5 sessions, once per week, each 2 hours
Couples: 6 session, once per week, each 2 hours
All programmes are delivered individually / with couples online, via Zoom.
I also offer this as to groups, so please reach out if you'd like me to deliver The Foundations of Financial Freedom to your group.
Contact us at heather@getrawenergy.co or make an appointment to chat here: https://meetings.hubspot.com/heather-mitchell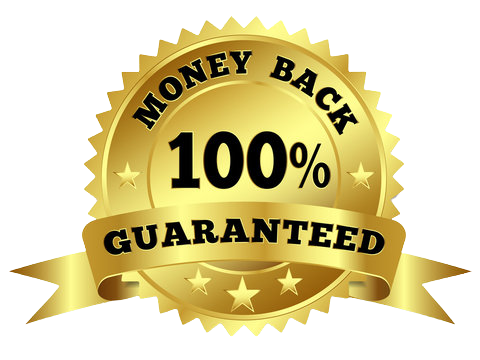 100% Money Back Guarantee
We are so excited for you to join our programme – we know you are going to LOVE it! We're so confident that you are going to find our course both valuable and life-changing, we are prepared to give you the ultimate guarantee – love it, or your money back. So you can take part in the entire programme and if you don't feel that it has been worthwhile, get in touch at heather@getrawenergy.co and we will arrange a full refund*
*Ts&Cs apply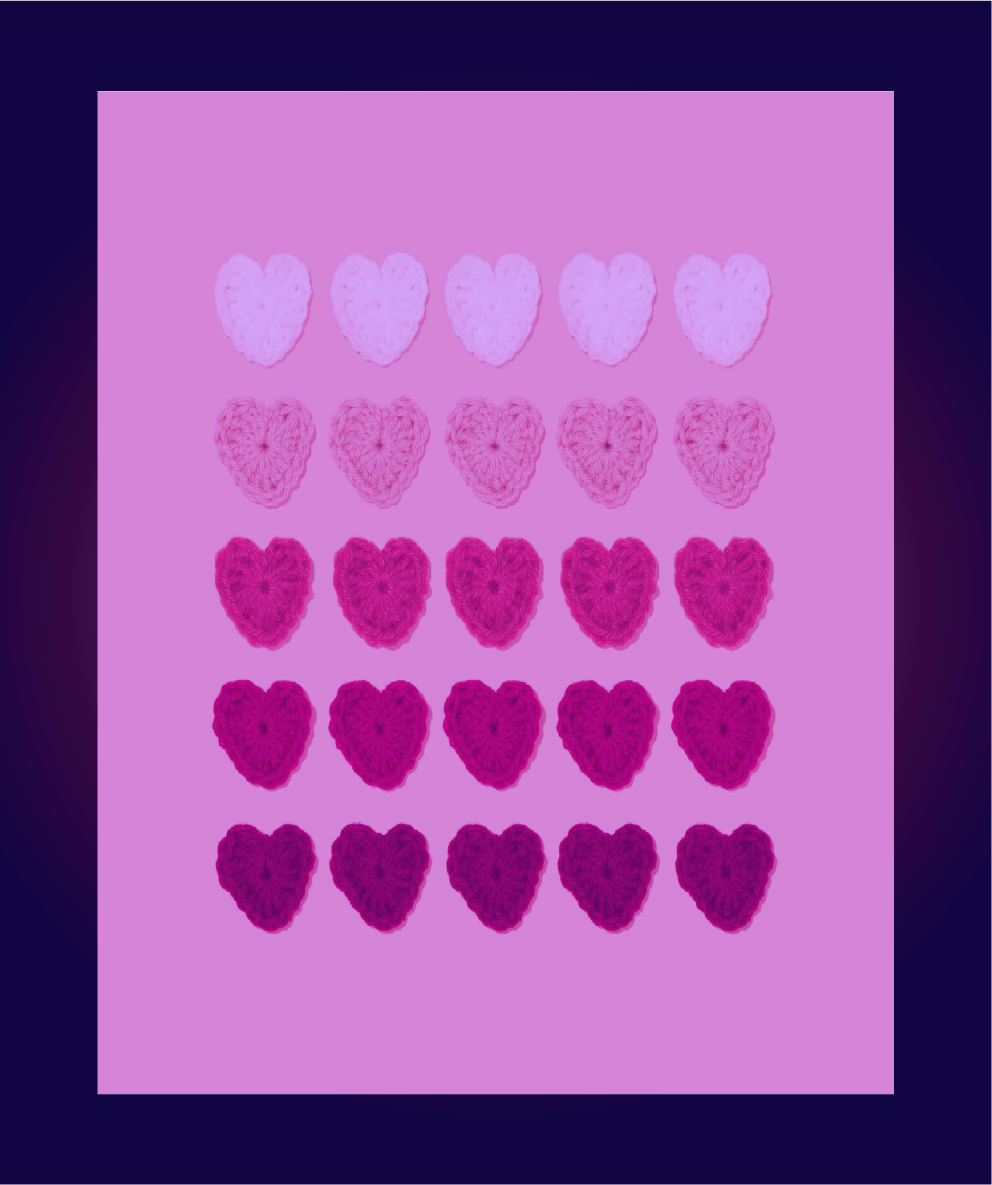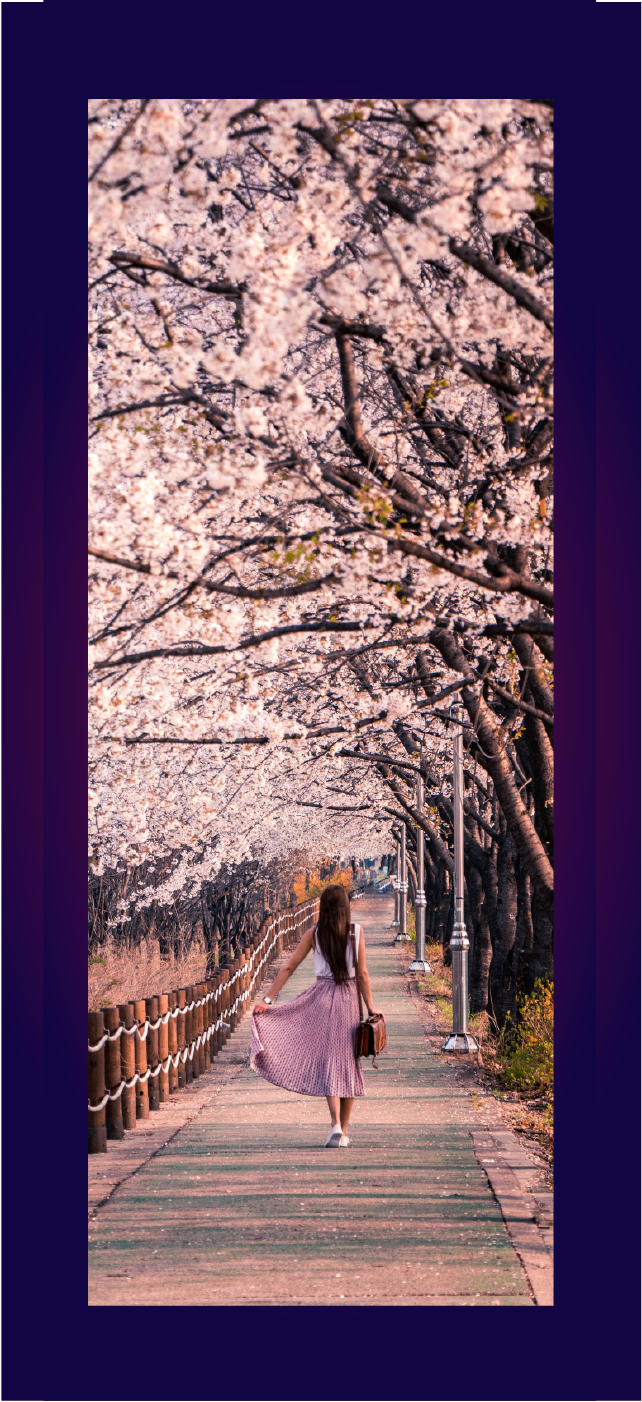 Footnote
The way we see it, life is a journey of exploration into yourself. Your unique story, with all its twists and turns, holds many clues for you to learn about yourself. The patterns that you uncover from your history can show you much about the lessons you need to learn in life and the priorities that are important to you. The more you understand yourself, the more you can identify the relationship between yourself and the world around you and what you can do to get the most value and enjoyment out of life. This knowledge allows you to know the next steps to take, and ultimately, to THRIVE. We hold a space for you to explore your relationship with money, asking questions that help you probe into a part of you that you may have not uncovered before. Who knows what you will find, but what will emerge will be a deeper understanding of You, a more knowledgable You, leading to stronger You. With your knowledge of how money works, and how you behave around it, you will be able to act with confidence, taking the steps that will work best for you. We hope to be able to walk with you on this fascinating journey, learning about and empowering YOU. 💜