Unleash the Power of Marketing
IGNITE

connects the dots between strategy and execution. We are a boutique marketing consultancy that helps purpose-led organisations create a customer-led strategy and make it happen.
With extensive experience in Health & Wellness, Education, Books, Magazines, Analytics, Technology, Food, Retail and professional services, we'll help you step back so that you can leap forward in the right direction, and unlock the power to:
Find new customers

Increase your AOV

Encourage people to buy more
IGNITE

focuses on helping businesses achieve:
A win for
the employee
A win for
the customer
A win for
the shareholder
A win for
the planet
Our purpose.
Business is a spiritual journey and you need to learn the rules to play it well.

Ultimately we see business as the exchange of emotions between people. Our aim is

to enable businesses to connect, collaborate and flourish using our holistic Total Wellbeing Framework as a guide: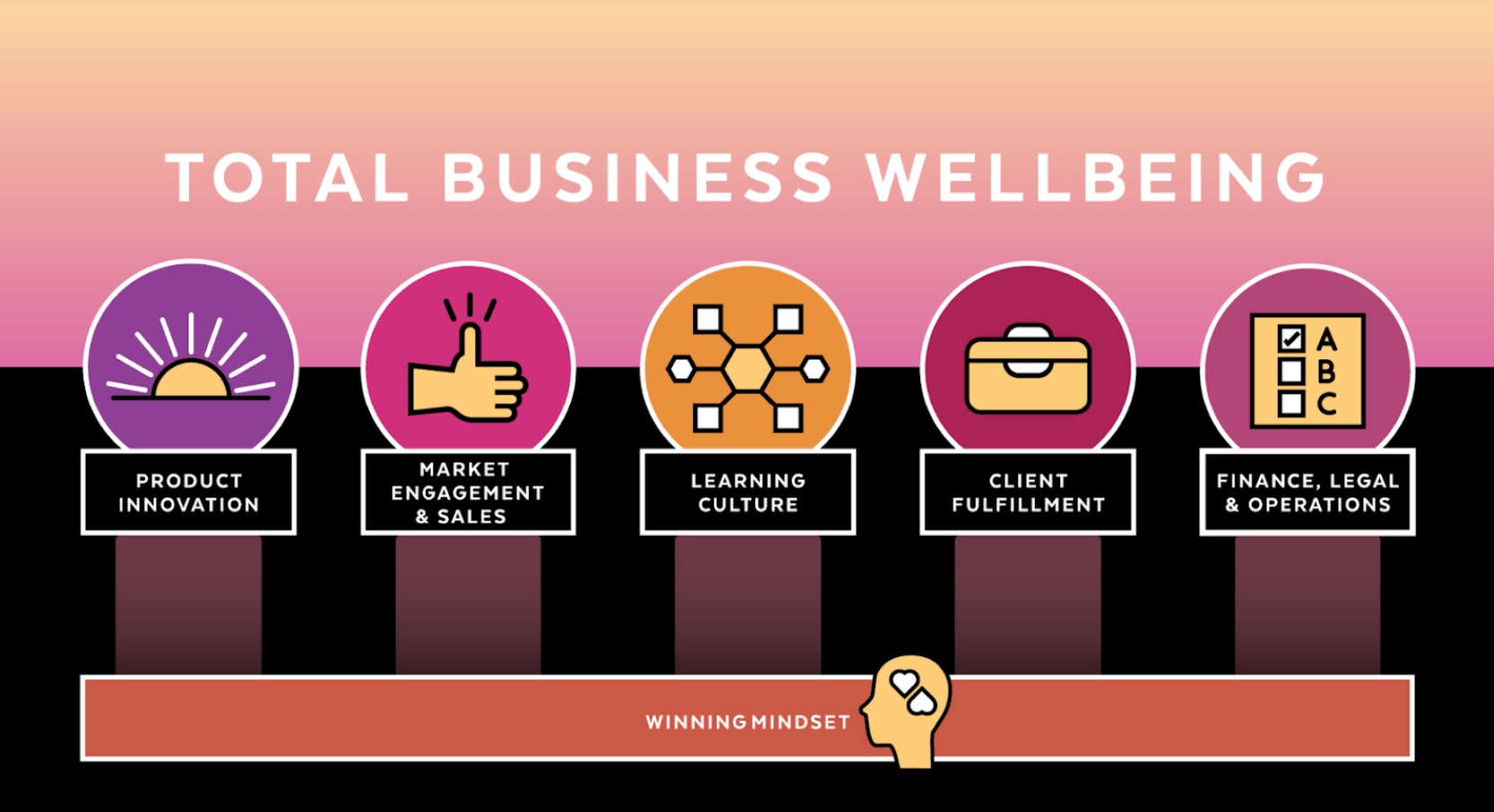 How we can Help?
Marketing mentoring/coaching

. As a mentor & coach, we will provide you with ongoing marketing mentorship, coaching & support to help you:
Deliver live projects including: business case support, award entries and product packages

Expand your reach to generate a pipeline of opportunities

Build awareness of your brand reputation

Build skills & capabilities in technical and critical areas such as adaptability, resilience and change management

Have fun along the way!
Sessions range from 90-120 minutes, and include:
Zoom-based, one-to-one sessions

Follow-up notes, analysis and templates

Reasonable WhatsApp support between sessions

Access to vetted, specialist services
Topic-led programmes

. A deep dive into a specific area of your business to build a strategy to grow your reach and impact. Chose from:
Customer Understanding.

Segment and profile your ideal customers so that you can engage and connect with them at a deeper level

Segment and profile your ideal employees so that you can attract and retain the right people in your organisation

Customer Journey mapping

Analysis & recommendations of your end-to-end customer journey, including recruitment, on-boarding, engagement, exit and lapse.

Analysis & recommendations for your end-to-end employee journey, including recruitment, on-boarding, engagement, development, resignation, exit and alumni.

Employee Culture & Brand Experience

Evolve your culture to enable people to work well, collaborate well and manage conflict well

Define, align or revitalise your customer or corporate brand position, purpose and values.

Identify and define a distinctive positioning in the marketplace for your brand and offerings.

Product & Service Innovation

Develop or redefine product and service offerings to solve your ideal customers' problems using the Ignite Innovation Process.

Market Engagement & Sales

Create a market engagement campaign strategy to widen your reach, build awareness, generate leads and customers.

Market engagement campaign execution including:

Look and feel

Copywriting

Videography

Own media platforms

Website
App
Data strategy
Toolset

Digital media platforms

Email
Social media
Online display

Speaking and PR

Events planning and sponsorship

Paid media platforms

Reporting & Analytics

Winning Mindset

A healthy mindset plays a foundational role in business success. The mind is the core engine that starts everything off, as Seneca wrote 2k years ago: 'Easy to spot opportunity when you are always thinking of opportunity'.

Through our FUEL team wellbeing programmes, we work with individuals and teams to help them to build a resilient mindset, greater awareness, deeper connection and abundant energy that sets us up for success every single day.
Are you looking to develop an impactful proposition and marketing plan? Do you want to connect more deeply with your customers?
If the answer is Yes, then RAW ENERGY IGNITE can help.
At RAW Energy IGNITE, we work with business owners and leadership teams to:
a. Get clear on the starting point
b. Create a marketing strategy using our Total Business Wellbeing Framework
c. Test, learn, review, adapt
d. Build resources to execute effectively
Get Stated today
A year ago, I was stuck in a dead-end job, procrastinating. In a single coach session, Lawrence has provided me with the appropriate tool and help to define, structure and focus on my ideals. 12 months down the line, things have happened and I collect daily rewards of what has been the best investment for a fulfilled and happier life.
Lawrence has been an awesome coach and mentor since the time we first met about 4 years ago! Over the past year, regular coaching sessions with him have helped me clarify, set goals aligned with my strengths and values and have simple systems in place to keep me moving forward with confidence. I have been a seeker and on Mindfulness journey for the past few years and with Lawrence's help I have been able to push boundaries to make healthier choices and take steps towards my vision of holistic wellness. I love his energy and it has been truly inspiring…he knows exactly when to challenge me and support me to keep growing. I would strongly recommend arranging a virtual coffee with Lawrence if you are keen to transform yourself within and without. You will enjoy the journey! Thank you, Lawrence, for everything.
It is an honour and pleasure to be working with Lawrence to help 'fuel greatness' and inspire and educate others to invest in their wellbeing and personal growth and success. Lawrence is a true leader in wellness with so much to share making him an inspiration to work with. He is also a great business coach who has been helping me in my journey. Lawrence is a great guy, is easy going and always has time for you.
Working with Lawrence and the Raw Energy philosophy has helped rebalance my priorities and goals. I previously focused almost solely on career goals to the detriment of my physical and mental health and relationships. By rebalancing my goals and learning more about health and wellbeing, I've been able to make consistent changes to improve my habits. I'm more active, make better food choices, am increasing my savings and have the physical, mental and emotional energy to achieve my goals.
Lawrence is an inspirational leader and manager, with the detailed focus that empowers high-quality on-time on-budget delivery of projects combined with a the big picture view that ensures each progression is a step in the long-term direction to continuous improvement at every level: products, processes and people. He is a pleasure to work for and really gets the best out of those around him, with far-reaching influence way beyond his immediate circle.