Do you want more energy? Studies show that energy is the most wanted health outcome of all. Why energy? Because energy is the fuel that drives activity and activity gets results.
Hi, I'm Lawrence, I'm the CEO and Founder of Raw Energy and Finding EQUILIBRIUM, podcaster, speaker and author of four books (including: Success Toolkit, Success without Stress and A Better Life). I live in Sydney, Australia and enjoy an amazing life doing work that aligns with my mission and passion to make chronic conditions like mental illness, obesity, diabetes, heart disease and cancer a thing of the past.
We're living through unprecedented times with technology and data making everything 'smart', and yet people are getting fatter and sicker creating huge physical, emotional and financial costs to themselves and the economy. All of this could be avoided with some simple lifestyle changes. It sounds easy, but it's not.
I often wonder why I'm so passionate about promoting wellness. I wasn't always this way. As a child, I focused on the things that all kids focus on: sports, playing games and generally having a good time. As a young adult, I lived my life in the now: eating fast foods, drinking copious amounts of alcohol, going to bed late and smoking a lot. It wasn't until my late teens that I woke-up to the power of nutrition.
At 19 years of age, I was overweight, confused, socially anxious and full of self-doubt. I just did what other people did as I wanted to fit in. I ignored the pains in my chest and kept thinking, someday I'll change.
My first wake-up call
Someday came one sunny day in May when I was 24 years of age. It was a beautiful day and I was on a trip with girlfriend, Heather (who is now my wife), and a couple of other friends. We were touring Western Ireland and stopped on a beautiful beach to have lunch. I sat down on the sand to eat my lunch, and then I felt a huge pain in my chest that felt like a sharp knife had plunged through my body. As quick as the pain came, it went and left me bewildered. I looked around me and saw children playing in the sand enjoying the gift of health. There and then, I decided to change and move towards a healthier future. I stopped smoking and started exercising. I was on my way.
For the next decade, my focus was on exercise. From a starting point of little movement, I became a big runner. I completed 6 marathons in that period. Food and drink was focused on fuelling my running and consisted of high sugar: orange juice, white bread, coffee and energy drinks. I was obsessed with getting a personal best, shaving 20 seconds off my time gave me a huge sense of achievement. I
didn't consider nutritional quality and just believed that I could 'run it off'. I believed I had the formula to health. I was wrong.
My second wake-up call
I remember the day well. It was January 4th 2008. I had just returned from the Christmas break when I was called into Jane, my boss's office, to be told that she was moving to a new position. Not only that, but I was going to be promoted to her role! I was stunned. Unknown to her, all of that Christmas I had been agonising over a big career decision of whether to stay at RBI, or leave and join a start-up business in the environmental space. It was a tough decision, but after much internal debate, I'd decided to leave. But the universe had other ideas for me, and this new information really changed things. So instead of handing in my resignation as planned, I found myself face to face with the group CEO that afternoon discussing my new role as RBI's Marketing Director, a role that I would do for the next 8 and half years as the business began to accelerate its journey of change from magazine publisher to digital data, analytics and software business.
I was due to start on March 1st, but it almost didn't happen as the month before, I'd visited Shanghai to visit a new company we'd just acquired. It was a fabulous experience, and I got to have a whistlestop tour of the sights, smells and sounds that Shanghai had to offer. I was there for all of two days. Unfortunately, though, I'd unknowingly picked up a virus.
The day after I returned to the UK, it was a beautiful day and I was out in Kingston running on my usual route along the River Thames.
Suddenly the world went black.
When I woke-up, I was in Kingston hospital, with all kinds of wires stuck on me. Turns out the virus caused an irregular heartbeat and it wasn't clear if it was ever going to improve. For 2 days I had all sorts of tests, face-to-face with my mortality. It was a very frightening experience.
Thankfully I got better. And when I finally got out of hospital, I had a huge sense of freedom – I suddenly had my life back! That day I made a commitment to myself that I would never allow myself to feel that vulnerable again.
So I did what every super-controlling person would do, became obsessed with my health! I'd always believed that I had been following the path to wellness as I'd run six marathons and did a load of exercise, but as I know now, true wellness is much more than fitness.
Up until that point, I saw food as fuel. As a big runner, I consumed tons of bread, pasta, orange juice and energy drinks because it was all about performance, scraping off precious seconds to achieve a personal best (PB). That's what drove me, plus the inaccurate belief 'that I could burn it off'. Now, though, I needed to eat for health & longevity, but before I could do that, I needed to really understand what success looked like, as that wasn't clear at all.
So I invested a ton of time and energy to educate myself and cut through the confusing spin, reading books galore on nutrition, including the evidence-based, China Study which really resonated with me to the extent that I decided to go cold turkey and stop eating all animal products altogether. Not only that, but whilst I was upgrading my habits, I decided to replace my 7 cups of black coffee with green tea, my orange juice with green juice and stop drinking alcohol altogether, replacing it with kombucha, a delicious fermented tea (before it became trendy!) In short, I focused on facts and logic.
The change process
Whatever anyone tells you, the change process is very hard. On day three I got the worst flu I've ever had and was in bed for an entire week. I felt weak, ill and super depressed. But I stuck with it as I had a big Why – I wanted to live as I had so much to do! And on day 6, I started to feel better.

On day 7 I started to feel much better and by day 8, I felt amazing! My energy went through the roof. I was waking up at 5am and doing 3 hours of work before the working day even began, which meant that I was able to have my big corporate job by day, but also geek out on wellness and nutrition at other times, eventually training to be a health & wellness coach and building a wellness coaching business as a side hustle which was a great outlet for my creative energy. This eventually became RAW Energy.
I was loving it, and I wanted everyone to enjoy wellness and also started to imagine what this newly found solution could do for the energy of a whole team or an organisation. The trouble was that my approach looked too extreme to others who still perceived wellness as eating what you don't like and doing what you don't want to do, and saw me as the guy who seemed to only eat broccoli and leaves!
The RBI Story
Whilst I was changing my own personal habits and upgrading many aspects of my life by night, during the day I was leading a large team through huge change. For context, RBI started life as a trade magazine publisher, but by 2014, it was well on the way to becoming a software, data and analytics business. It was a phenomenal transformation and I felt and feel very fortunate to have been part of such an amazing journey of business transformation and value creation. Looking back, one of the great advantage of working in the publishing industry through the Noughties meant that you became very used to disruption as there always seemed to be some change or other happening!
However, on the ground the uncertainty, the restructures, the redundancies, the acquisitions, the divestments, the integrations and the cost cutting all took away a lot of energy, and was leading to stress, overwhelm and, in some cases, burnout.
The birth of RBI Living Well
In January 2014, I was sitting in an executive leadership meeting discussing the topic of the day: how to accelerate revenue growth. After several years of decline, the business now had some key growth engines that were performing and, as is often the case, needed to perform quicker and better. In that meeting, Graham, the Head of HR, presented the 'RBI people strategy' to the team. This was the first time we'd ever had a people strategy and it was very comprehensive. It covered the key elements you'd expect to see: recruitment, retention, learning & development, recognition & reward. One thing it didn't include, though, was anything about health and wellness. Given my context, this seemed odd and I started to see the different strands of my life begin to come together, and that meeting inspired me to go on a journey of innovation that would eventually lead to the creation of RBI Living Well, a workplace wellbeing philosophy and programme that energised the RBI culture and went on to impact the energy of thousands of employees, based across 50 offices.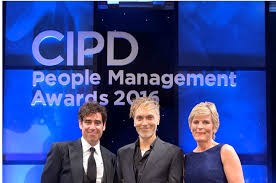 By the time I left RBI at the end of 2016, the Living Well philosophy had 86% awareness, a more engaged (+46%), more energised (+36%) and more resilient (+26%) workforce, and these results combined got externally recognised by
winning the CIPD 'Best Corporate Health & Wellbeing Programme.'
Ever since, the RBI Living Well programme has continued to grow and thrive and make a lasting difference to the RBI and RELX employees, customers, partners and shareholders around the world.
The move to Sydney
As for me, I relocated to Sydney's Eastern Suburbs, the Mecca of Wellness. Australian Consumers are the most health conscious in the world. Many wellness innovations start in Australia and then move to other countries and I wanted to be part of that and worked for 3 years at SumoSalad as Chief Customer Officer, learning so much about what the wider public want from a healthy food brand, now having the mission to increase the wellbeing of the whole of Australia.
I now work 100% for myself on my RAW Energy, Finding EQUILIBRIUM and Wellbeing@Work brands. I believe that the obesity epidemic and all of the personal and financial costs associated with it could be reversed by giving more people access to fresh, healthy food, education, inspiration and support, both directly and through the organisations that they work for. It sounds so easy, but it isn't and that's why we exist, to fuel greatness in individuals, teams, communities and workplaces.
'The best time to plant an acorn was 20 years ago. The next best time is now'
Together we are stronger
As a conscious leader, with bounds of Raw Energy, a depth of wellness expertise and breadth of marketing and business leadership and corporate wellness experience, I am driven by a genuine desire to help people unblock and balance their energies to lead happier, healthier, more productive lives. Having worked in the publishing, events, data, analytics and software industries for over 20 years, living and working through the first phases of the digital revolution, and in food retailing and FMCG, I am certainly used to disruption, uncertainty and transformation. Through all of this change, though, I always refused to accept that life and work should be anything other than energising.
For speaking, consultancy and coaching enquiries, please get in touch.
Lawrence