I was in New York City last November and took the opportunity to visit Pure Food and Wine, one of the country's most acclaimed restaurants. Of its entirely plant-based vegan menu, nothing is heated above 118°F, to preserve valuable vitamins, minerals, and enzymes.
I ordered their Kelp Noodle Pad Thai which was so delicious and I was discussing this very dish just before. It was an 'experience on a plate'.
Just in case you're inspired to try to create this yourself, Co-owner and executive chef Sarma Melngailis,has shared her recipe online:

'RAW FOOD CAN BE as complex or simple as you'd like. As complex as the the menus of LA's best raw fusion hotspots with their tongue-twisting ingredients and techniques designed to mimic cooked tastes and textures, or as simple as a bowl of fruit. This recipe from Sarma of NYC's Pure Food and Wine is somewhere smack in between.
Don't let the long ingredient list fool you, once you've gathered your supplies the task is a relatively simple one. Whole Thai chiles and blocks of tamarind pulp can be found at Asian or Indian markets. Kelp noodles can be found in most health food stores, either in the Asian foods aisle or with refrigerated produce.
This recipe comes from the folks at Clean Plates, a reliable resource that helps us find sustainable, local, organic foods, whether through their great city restaurant guides or their cookbookfull of menus to make at home! Here's Clean Plates…
SARMA'S RAW PAD THAI
Serves 4 to 6
INGREDIENTS
2 limes
1 (11⁄2 inch) square tamarind pulp
1⁄2 medium-size tomato, chopped coarsely
1⁄2 small shallot, quartered
2 Tbsp toasted sesame oil
11⁄2 Tbsp raw agave nectar
1⁄4 Thai chile, seeded, or more to taste
1⁄2 garlic clove
6 tbsp organic naturally brewed soy sauce or organic wheat-free tamari
1 medium-size orange bell pepper, cored and cut into matchsticks
1 medium-size baby bok choy, cut crosswise into 1⁄4-inch shreds
1 medium-size carrot, cut into matchsticks
1 large king oyster mushroom, cut into 1⁄4-inch slices
1 cup snow peas, cut into 1⁄2-inch pieces
1 medium-size zucchini, cut into matchsticks
3 scallions, sliced thinly
1 Tbsp organic extra-virgin olive oil
2 (12-ounce) packages kelp noodles, chopped into 4-inch pieces
Bean sprouts, for garnish
Microgreens, for garnish
Chopped raw cashews, for garnish
DIRECTIONS
Cut one of the limes into wedges. Juice the remaining lime to yield 4 1/2 tsp of juice. Set the wedges and juice aside separately.
In a small bowl, combine the tamarind pulp with 1⁄2 cup of very hot water. Use a fork to work the mixture into a paste, removing any seeds. Set aside and let soak for 15 minutes.
In the jar of a blender, combine the tomato, shallot, sesame oil, agave, chile, garlic, 2 Tbsp of the soy sauce, and 1 1⁄2 tsp of the lime juice and process to a puree. Add the tamarind mixture and process until very smooth. Add more chile to taste and set aside.
In a large bowl, combine the bell pepper, bok choy, carrot, mushroom, snow peas, zucchini and scallions. Add the olive oil, remaining 1/4 cup of soy sauce, remaining 1 Tbsp of lime juice and 2 Tbsp of the pureed sauce, stirring evenly to coat. Chill in the refrigerator for at least an hour.
Add the noodles to the vegetable mixture. Add more sauce to taste, tossing with tongs to evenly distribute the sauce.
Serve garnished with bean sprouts, microgreens, cashews and lime wedges!
Recipe reprinted with permission from THE CLEAN PLATES COOKBOOK © 2012 by Jared Koch with Jill Silverman Hough, Running Press, a member of the Perseus Books Group.'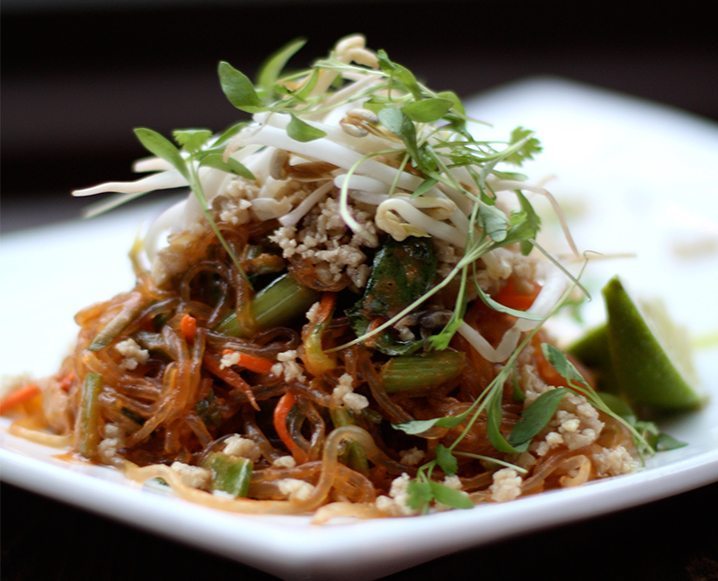 via Pure Food and Wine's Raw Pad Thai Recipe.