So as January gallops past, I haven't forgotten my goal and commitment at the start of the year:
'I will personally eat at 20 different vegetation, vegan or raw restaurants around the world by December and write a review on my blog for you.'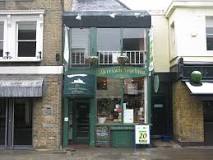 Last night, Heather and I headed out on our date night to Kingston, deciding to give our new jive classes a miss after she was sick last week from all of the spinning! We decided to go into Kingston Upon Thames and visit our closest Vegetarian Restaurant: The Riverside Vegetaria.
I have actually been there many times. It's a lovely restaurant, again quite a traditional vegetarian hub which attracts some very interesting characters. It's right on the River Thames, so during the day is a fantastic place to sit and watch river life go by.
Given that it was very dark when we visited, we missed out on the river-side view, but it was fine. There are two menus, one on the board (which apparently doesn't change much) and one on paper. So if you're the type of person who likes to take their time and review everything on the menu, prepare for it to take you a while!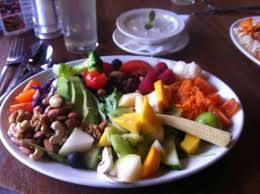 Heather opted for the house salad (as she always does), whilst i decided to push the boat out and go for their sweet potato and parsnip hotpot which was great. I never usually have desserts, but do love their home-made crumbles, so we shared their home-made fruit crumble, which wouldn't have won Master Chef, but was good
The whole meal came to just under £30 for the two of us (we don't drink wine) so I'd say in summary:
DO go if you love hot and wholesome vegetarian food, served in a traditional environment by friendly and interesting staff (e.g.: our waitress told us that she walked to Brighton – 57 miles for an art project). Go during the day for lunch if you want to see the river – or pick a summer's evening when it's light until 10pm.
DON'T go if you're expecting lots of raw food choices on the menu – the house salad is amazing, but that's about it! Don't go if you get intimated by interesting and creative types of people.
So overall, The Riverside Vegetaria gets a 8/10 from me. I will be back, not only because it's my local, but I really like it there.