Unleash the Energy in Your Workplace
Modern workplaces are changing rapidly driven by disruptive,  digital technology which has forced whole industries to transform over the last decade. Media, Publishing, Retail, Finance, Health, Hospitality, Travel, Food & Agriculture, Property.
Every industry has and will continue to be affected.
Successful transformation requires investment in finding new growth engines to drive future shareholder value. Product innovation, Technology, Marketing and Sales are the key ingredients and fuel of business growth. But underpinning success in each of these areas requires human input.
Behind every great product, closed deal, marketing campaign, technology integration, M&A transaction, monthly P&L is a person and many of those people are under chronic mental & emotional stress.
Throughout the world, the research tells a worrying story. In Australia, for instance, one of the most progressive countries in the world when it comes to wellness: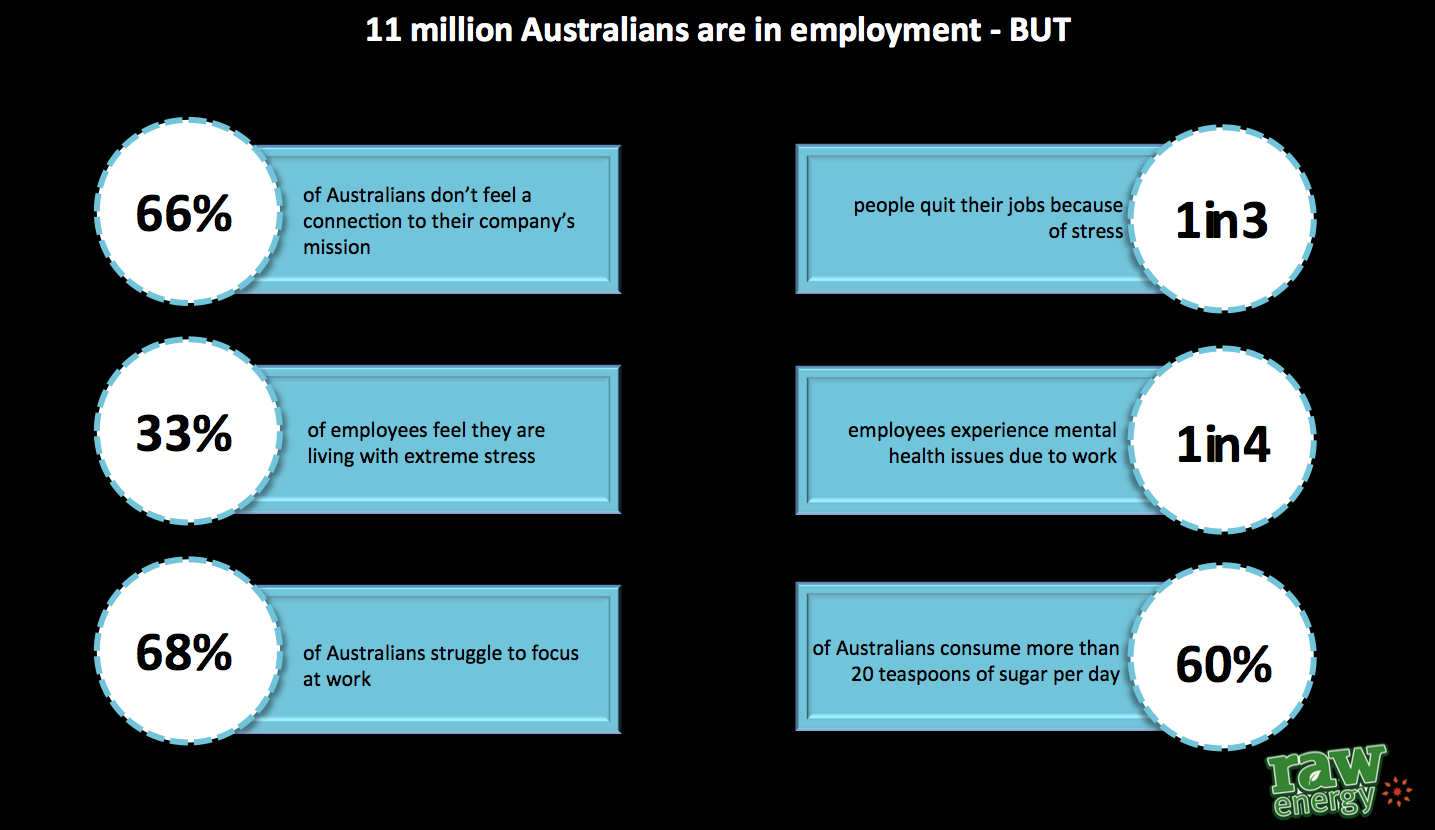 We want to change that.
At Raw Energy our mission is to unblock the energy that already exists within organisations and help channel that energy into productive output, fuelling growth in the process.
We believe that workplaces should be energising communities of people, working together towards a common purpose and a common goal. No, this isn't a fantasy. These workplaces exist and enjoy enormous financial benefits. Take a read of: 'Firms of Endearment' or 'Let my People Go Surfing',  'Delivering Happiness' or 'Conscious Capitalism' if you don't believe me. 
In the age of disruption, there is one way to not only survive, but to thrive, and that's to put the employee experience at the heart of your organisation, and a big part of the employee experience is wellbeing.
Everyone wants good health. Everyone wants wellness and everyone wants energy. Research shows that having more energy is the number one health outcome that we all want.  By focusing on wellbeing in a big and authentic way, you will enjoy the benefits that forward thinking companies enjoy: breaking down silos, encouraging collaboration, creating a higher performance culture, attracting and retaining millennial talent, building resilience, reducing the costs of illness, giving back and of course, unleashing the 'Raw' energy that already exists. 
But to move towards this future, requires a clear picture of where you are right now. Every person, team, organisation and  industry are different, but are all connected by a desire to feel great and to have great thoughts.
Health and wellbeing connects us all together and is the enabler to growth and greatness. With wellbeing, comes energy and with energy comes activity and with activity comes results. 
Unblocking your Workplace Energy
At Raw Energy, our vision is to make obesity, diabetes and heart disease a thing of the past by advocating the benefits of eating well, movement, sleep, technology and data within the context of workplace.
We deliver customised workplace consultancy, training and coaching solutions that enable leaders, managers and employees to move from confusion to clarity and have access to energy-enhancing ingredients that drive individual, team and business growth. Our whole philosophy is underpinned by four core values: authenticity, freedom, growth and connections, and we work with leaders, managers and individuals to help them identify energy blocks and imbalances across five dimensions and empowering them with the tools and techniques, programs and services to balance and release positive energy.
Let us help you shift your energy into action and create a more authentic, people-centred workplace and community in the process.

Download Your Free Guide
To help you move forward, download your free guide: '20 Ways to Energise Your Culture'. Packed with a range of tips, techniques and resources to help you get started on the journey to creating a more energising, positive work environment for people to do their best work that ignites your business.  You can download it here.