Many of our subscribers are interested in taking a supplement or two, but which one to choose is a topic often debated in our comments sections online.  The world of supplements is a minefield that, if you're interested in your wellbeing, you will need to pick your way through. When you approach the task, you're looking for evidence so you can find an easy way to choose which supplements to buy.
So rather than sending hours trawling through pages on google, getting confused, team Get Raw Energy have found just the thing that will help you with your decision.
Health related data is delicious, and when David McCandless at  informationisbeautiful.net does all the research, and creates a beautiful interactive infographic like this one, we really enjoy clicking all over the page, digesting the information.
It's an easy way to choose which supplements to take.
How does it work?
The information is collated from valid sources and added to a google doc with a rating. That info is then fed into an easy to decipher infographic (image below).  You can also filter by scientific basis, or general popularity. The version here has been filtered by scientific evidence – and you can see folic acid, green tea and Vitamin D at the top in large bubbles.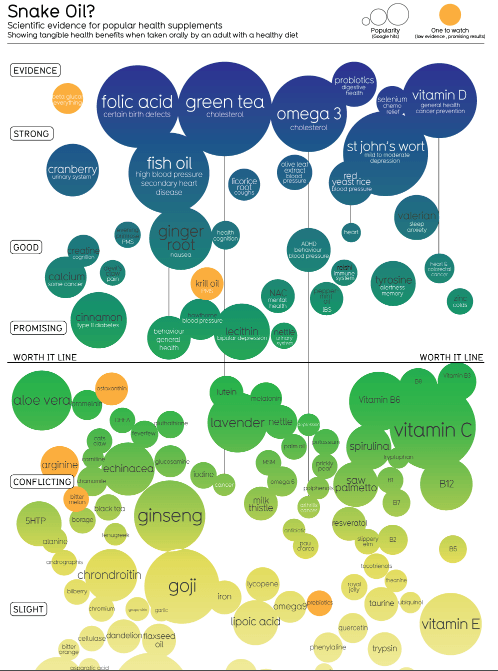 How Do You Read It?
We'd suggest you start with the general overview before adding filters.
Here's how to interpret it:
1. Size – Google searches
The bigger the bubble the more hits on google the topic has.
(look for green tea on the left, which has high searches compared to krill oil in orange which has less)
2. Bubbles at the Top –  Strength of Evidence
The closer to the top the bubble, the stronger the evidence there is for it's effectiveness. (look for strong evidence – St John's Wort, with Valerian below as a good evidence – and compare it with Vitamin C which has conflicting evidence but lots of searches).
Just because it's a the top doesn't mean it's the best – that just means it's popular on google.
3. Colour of bubble how much evidence
Dark blue is a lot of evidence, and lighter colours not so much. Orange means 'one to watch'.
4. Filter by condition and also click for more info
Then for an easy way to choose which supplements could be right for you, you can either click the interactive panel on the filter panels on the right which will filter the results for – say- general health for women and you get a different picture (Below pic).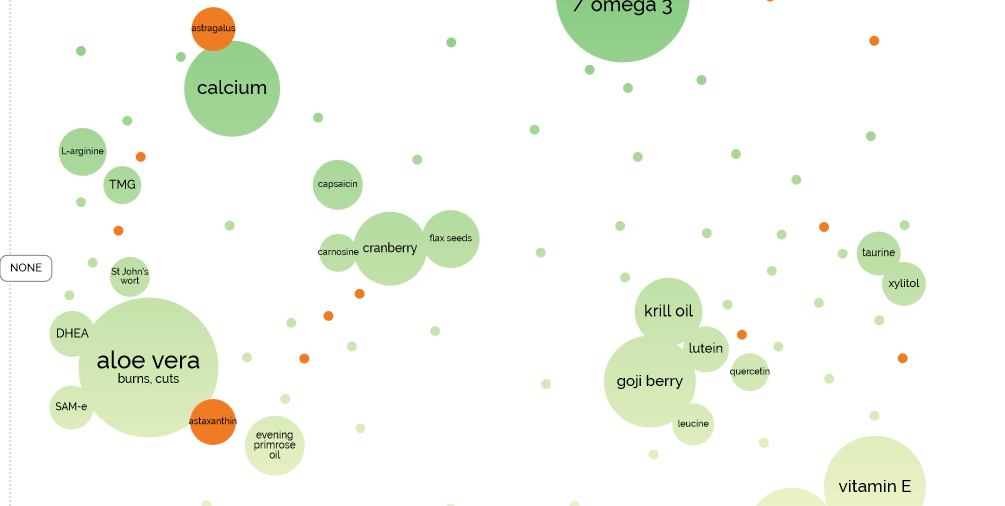 Then you can click on the supplement you're interested in, and click again to find out more about it. So if you wanted to know about alow vera, from the image below, you could say it's got interest on google because of the size, it's got no scientific evidence (according to this chart) – but you'd still like to know more, and so you click. That way, you can make up your own mind as to which supplements to choose.
You can even see the raw data. I know, we love this too. The great people at information is beautiful have even given the general public access to the raw da

ta via a google doc (click on the image left to view it). You can also send in your evidence and comments, so this is an 'in real time' constantly updated doc.
It's an easy way to choose which supplements you will try out and also to be involved, if it's your thing, and help others to find their way through, too.
---
You can also get great information from Get Raw Energy's ezine – Healthy Habits. Delivered to your inbox (No spam, and nothing else from anyone else, we promise).  Sign up today!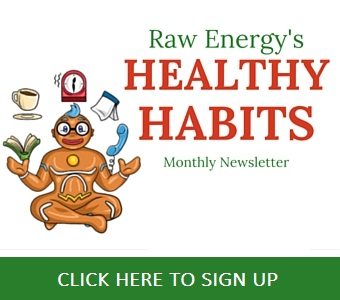 ---
Disclaimer:  Please note that you should always seek medical advice on any supplementation and this blog post is simply sharing information with you and does not make any recommendations.