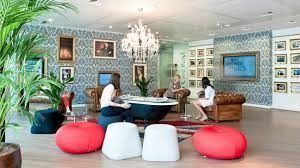 A big theme for me this year has been  looking into modern office environments to support both collaborative and independent ways of working as well as a broader workplace wellbeing agenda as our environment has a big impact on how we feel and therefore how productive we are.
It has been an interesting journey which started at the back-end of 2013, when I first heard about 'agile workspaces', environments where employees typically do not have their own desk, but have the freedom to come in, sit wherever and with whoever they chose to.
There are also collaborative workspaces where people can gather to focus on different tasks; and typically everyone will have their own locker where they can pop their things in at the end of every day.
Whilst I am describing these office environments as 'modern', the truth is that these 'agile' or 'activity-based' workspaces have actually been around for a long time, particularly in the creative industries such as advertising agencies, which contrast with more traditional, process-oriented office environments where everything tends to happen at your desk or in a meeting room.
The dot.com era towards the end of the 90s brought these types of workspaces to young start-up businesses which have scaled the concept as some of these start-ups have turned into major, global corporations.
Now, whilst I got quite excited about the agile approach myself, when I shared my enthusiasm with some colleagues, they were initially less excited initially, but were open-minded and happy to go on a 'journey of discovery' which has culminated in a brand new 'agile workspace' for RBI in central London, which is an amazing space and has had a very positive impact on our employees.
Let me take a step back now and describe some of the steps we've taken to get to this point. Whilst we were dealing with a central London location and worked with an interior designer, the approach is applicable to any office environment and budget.
1. Move from concept to concrete
I guess the first step was moving the purely conceptual into something more concrete and the best way of doing that was visiting offices that had already adopted the 'agile workspace'.
So I visited a number of offices myself and encouraged my colleagues to do the same so that we could all get on 'the same page'.
Some of the offices I visited included:
LexisNexis's newly refurbished office in London's Farringdon Street.
Coincidentally, I actually worked there over 20 years ago, but apart from the entrance door, the whole building had been completely gutted.
White walls and rows of desks greeted us, as well as a large, collaborative, break-out area in the basement which was very impressive.
Now, no one had their own desk and everyone had a locker and everyone i spoke to seemed to prefer it, although they were keen to pass on some of their lessons from moving from a very traditional work environment to a completely agile work environment.
The whole place felt 'very Google'.
The lessons included making sure that you overestimate the number of desks. Like a dinner party, it's better to have too much food that not enough, as from an office perspective, not having enough desks causes employees to worry about not getting a desk; and if they don't, they'll need spend the whole day in the break-out area, risking muscular skeletal issues. So something to watch.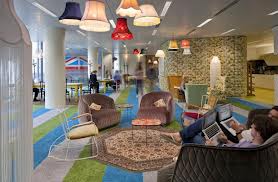 I then visited the home of agile work, Google, and their London's HQ just behind Tottenham Court Road Station.
I really like Google's office. Who wouldn't?
Well, in truth, it isn't to everyone's taste.
They have created a campus-style office environment, where everyone does have their own desk, but also has the opportunity to spend time in the many collaborative workspaces, including a great library.
There's also a fabulous gym and free food for all which enables Google to run interesting tests to see, for instance, the impact of different food types on productivity.
The whole place feels like a fun experience, rather than a boring office, with 1980s decor that reminded me of my grandma's apartment in the 1980s!
More recently, I visited Adobe's offices in Utah. A purpose-built, campus-style building surrounded by beautiful mountains.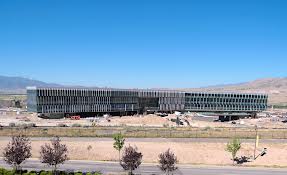 I was there for a course, but as a customer of Adobe, was very keen to see the home of where many tools for marketers such as Adobe Analytics and Audience Manager are created.
What a great space!
I was shown around by one of their employees who explained the whole company philosophy of 'looking after the whole employee' which resonated well with me.

In practical terms, this means that Adobe have invested time in understanding their employees and created something for everyone, including:
-A wellness centre that has an amazing state of the art gym (even better than Goolge's)
-Fitness classes and free personal trainers for staff
-A wonderful restaurant with delicious, organic food (not free like at Google), but you can bring your family in for lunch (hence there were loads of kids running around)
-A cycle system that makes it so easy for cyclists to cycle to work, park their bike and get to their desk efficiently. Really good.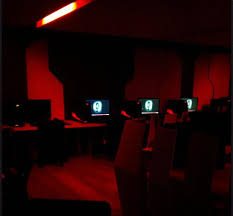 -A 'dark den' full of video games for the engineers to let off steam if they need to…
-Lifts or elevators that difficult to find, encouraging employees to take the stairs which are super easy to locate!
-Lots of outdoor space for employees to walk around, enjoy the view, play volleyball, go for a run…
-Table tennis tables to encourage friendly tournaments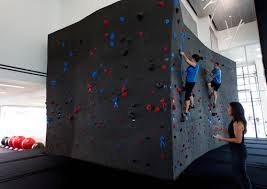 -A rock-climbing wall…for people into rock-climbing
Again, the fun element ran through, encouraging their employees to work hard, but look after themselves by making so many services easily available to them.
So, in summary, workplaces today have evolved from highly functional places where there's a clear divide between work and play;  to spaces which combine work and play to enable modern 'knowledge workers'  to be creative and innovative; work collaboratively; be analytical and responsive.
These office spaces do not need to be plush, but do need to enable people to meet, gather and 'bump into each other', to deepen relationships and fuse ideas. Both Google and Adobe have lots of places where employees can do this which sparks innovation.
We ask a lot of our staff and ourselves and need to ensure that our physical environments are supporting us to do our best work. Shaking things up every so often helps to keep things fresh.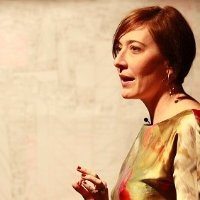 As we approach 2015, have a think about whether how your office environment makes you feel. Energetic, creative? Then consider what types of feelings you would like it to support? Now think about what steps you need to take to make that vision a reality?
Send me a 'ecard from the future' by emailing me at lawrence@getrawenergy.co and letting me know what your future office environment looks like and feels like. The more detail the better!
I look forward to hearing from you and if you need further support and inspiration, a great person to look up is Monica Parker.