I went for a wonderful run this morning along the Cyprus coast (where i am on holiday at the moment).
Whilst running, I listened to an inspiring interview with Annie Jubb.
Annie has over 25 years experience of raw and living foods and currently runs the Life Food Organic Cafe in Hollywood.
One of the recipes from the cafe which sounds great is for Electrolyte Lemonade, a natural energy drink often used by marathon runners.
It's simple to make and here's the recipe which will serve 4-6.
'Prep Time: 20 Min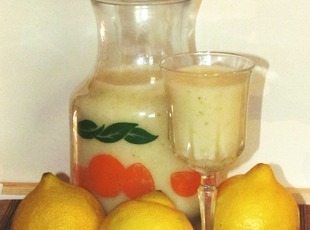 Ingredients
3 large lemons (yellow peel removed but leave the pith in tact)
3 Tbsp oil: flax, olive or coconut butter or oil
1 large unpeeled organic pear (cored, seeds removed)
1 tsp celtic sea salt
6 c charged water (or purified water)
6 Tbsp sweetener: raw honey, maple syrup, liquid stevia to taste
This recipe is courtesy of David Jubb, life food scientist. The original recipe can be found in "LifeFood Recipe Book: Living on Life Force"
Note: You will need a good blender like a Vita-Mix to make this drink, lesser blenders might not be able to liquify the ingredients.
Directions
1 I used my lemon zester to remove all the lemon peel and froze the peel. Keep the pith on the lemon, this is a very important part of the drink. Blend all ingredients well in a blender. I left the seeds in also.
2 This drink is remarkably a healing and refreshing beverage.
3 The lemon oil detoxify while boosting the immune system. Citrus pectin restores asorbtion of fats.
4 Add other fruits to enhance the flavour, such as berries, peaches etc. This is also a good beverage to keep you regular :)
5 Enjoy and thank you David Jubb!'
via David Jubb's Electrolyte Lemonade Recipe | Just A Pinch Recipes.