This article is curated by Lisa at Team Raw Energy.
You're well aware, I am sure, that modern life is stressful – it's just how things are these days. The pressure on women to do it all and have it all doesn't seem to be easing. Which is why I am sharing this blog post with you about a badge of honour – I'd love to hear your comments.
I recently discovered an article which suggested that the level to which us women are successful at 'coping' and how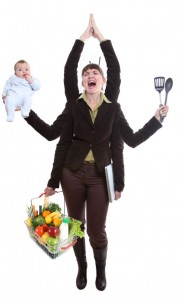 much we fit into the day is akin to a badge of honour – with bragging rights for those who are the most busy. Are you aware of some who just like to tell you how much they have 'got on their plate' and they 'don't know how they manage' (in your opinion they still look immaculate, and you pale in comparison, hoping no-one notices the ladder your tights made just as you left the house this morning!).
Could one dare to suggest that there is  a subtly secret competition going on with the badge of honour going to the woman who can deal with the most stress? Could it also then be, as journalist Stella Photi writes –  a misguided symbol of achievement if you are at the top of the leader board? It's certainly something to think about, especially taking into account the long term negative effects of stress.
While I am not sure I would agree with the badge of honour thoughts, I would really support these suggestions from the article I found, from author Stella Photi who set up Wellbeing Escapes.
Learn your limits. Get to know your limits and learn how to manage stress- some people thrive on stress while others don't. Learn what makes you tick and when you feel as though your stress is getting too much then it's time for a pause.
– Take a short walk to clear your mind and remove yourself from any unwanted situations.
– Don't feel guilty about taking some time to yourself. Enjoy a spa treatment, or try aromatherapy oils like bergamot, chamomile, lavender, sandalwood or ylang ylang to relax you.
– Try meditation techniques – they can really help quiet and focus busy minds.
Learn what the causes are. Pinpoint the causes of your stress – Knowing that you're stressed won't provide a long-term solution. Figure out the reasons behind it and tackle them. – Work – Work smarter, not harder! Prioritise tasks and manage your time effectively so you're not spending all of your time at work, and avoid reading emails late at night. – Too many commitments? Don't be afraid to wind down; sometimes we can stretch ourselves too much, so figure out which obligations you can sacrifice.
Learn how to take time out.  Taking a wellness break or any kind of break is important to your health and an investment in yourself. It's a chance to reboot and recharge so you return feeling more enthusiastic and refreshed.


---

I think a few more pointers on how to live a stress-free life would come in really handy.  Click the image below or this link to sign-up for the Healthy Habits e-zine,  delivered to your inbox every month.


---

Want more in-depth information?
Get a copy of Success Without Stress which is full of practical tips and techniques to help you reduce the negative stress in your life.

Available in print or kindle edition:

Click Here if you are in the UK/Europe

Click Here if you are in the US

---

By the end of the book, you will be in more control of your stress management. Discover:

What stress is and how it affects our bodies
How to identify the specific stressors in your life, so that you can take steps to reduce them
How to track and measure your stress levels to get early warning signs
How to spot the signs of stress in other people
The 50 healthy habits you can incorporate into your life to prevent burnout