If you love apple pie, like me, but you're also into eating raw foods, well you're going to love Mimi Kurk's 'raw apple pie'.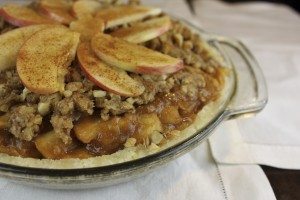 Here's the recipe:
'For the Crust
1½ cups macadamia nuts, soaked for 2 hours
1/½ cups walnuts or pecans, soaked for 2 hours
Pulse in food processor until crumbled well. Do not over process, as the nuts will get too oily. Check as you pulse, scraping down sides. When mixture sticks together when pinched with your fingers, it's ready to put in your pie dish. Gently press in pie dish to form the crust.
For the Filling
4 cups dried apples, soaked in 2 cups apple juice to reconstitute
3 cups fresh apples, coarsely chopped and tossed with 1 tablespoon lemon juice
7 medjool dates, soaked until soft
2 oz. Irish moss gel, soaked overnight (see instructions below)
1/2 teaspoon cinnamon
1 tablespoon maple syrup
1 teaspoon vanilla
Pinch of Himalayan sea salt
You can make dried apples in your dehydrator or purchase organic naturally dried apples from the farmers' market, health food store, or online.
When apples are hydrated, strain juice to make Irish moss gel. *see directions for Irish Moss below
Place chopped moss in blender with 1 1/2 cups apple juice. Make more juice if necessary. Blend adding water if needed to make a thick gel.
Be sure the mixture is completely smooth and thick.
In food processor:
Place 3 cups chopped fresh apples, Irish moss gel, medjool dates, cinnamon, nutmeg, sweetener, vanilla, salt in a food processor and blend until smooth.
In a mixing bowl, combine apple mixture from food processor together with dried apples and blend with a spatula until well incorporated. Pile into piecrust. Top with topping and thinly sliced apples (see photo). Sprinkle with cinnamon. Refrigerate for 4 hours or overnight.
For the Topping (this makes the pie extra special)
1 cup pecans, finely chopped
4 medjool dates, chopped fine
1/4 teaspoon vanilla
Can be chopped in food processor or by hand. Mix together to make a small chunky texture and crumble over top.
Refrigerate pie to chill and set.
*How to make Irish Moss: Soak Irish moss over night in water to cover. Rinse several times and clean out any dark pieces of moss attached. For this recipe I soaked 1oz. of dried moss. The moss will turn white and become swollen when ready to use. Overnight soaking is best. Drain and cut into piece and blend with water in blender, however in this case we are blending with the apple juice that was used to soak the dried apple instead of water. A smooth paste consistency is what we are looking for. Add water if necessary a little at a time until smooth and no fine pieces remain. Will last in the refrigerator for approximately three weeks.'
via New Fashion Apple Pie : YoungOnRawFood.com.