Turmeric and Ginger Tea Recipe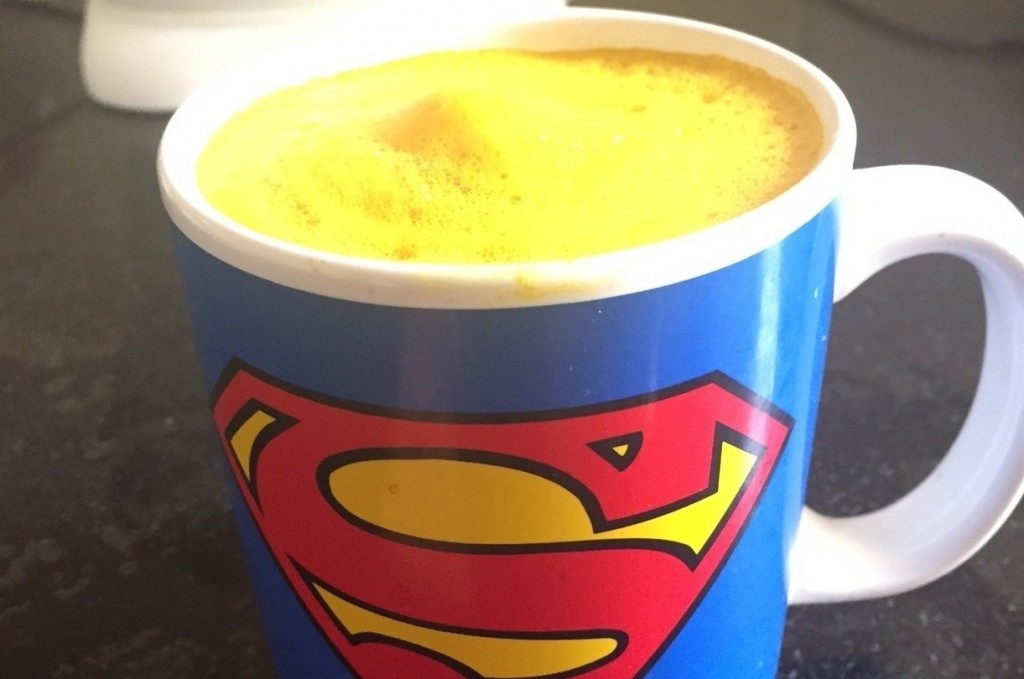 Turmeric, a relative of ginger, is a lovely golden yellow root, commonly ground into a spice. It has been used in cooking and medically in India and Southeast Asia for several thousands of years. Today, though, it has become very popular with health enthusiasts, largely due to the research studies that have linked it, or one of its main components, curcumin, with a multitude of health benefits, including:
anti-inflammatory
reduced cancer risk
detoxification support
cognitive function improvement
blood sugar balance
support for arthritis
With such claims, it's no wonder its popularity has soured over the last few years.

Today, India is still the world's largest consumer and exporter of turmeric. I was there in 2016, and came back with an enormous bag of turmeric powder which served me very well until I left the UK for Australia, when I gave it away to my parents and my dear friends Kevin and Angela.
If you have no plans to travel to India, do not worry. Turmeric is widely available in US, British and Australian supermarkets, as well as in local spice stores where we always tend to go as the quality and freshness are superior in my experience. You can buy it in it's whole form (turmeric root) which looks very like ginger, or powdered form, and I recommend keeping the powder in a tightly sealed glass jar in a cooler, dark, dry part of the kitchen.
Warning!!!
One big word of warning is to be be very careful when using turmeric. It has a lovely deep yellow colour and is often used to colour things, but if you drop it or touch it, it will colour things you don't want it to colour and it will be a bugger to get out.
You can eat turmeric in all kinds of recipes: soups, salads, smoothies, teas, and don't need to each a ton of it to get the health benefits. In fact, some research has shown that all you need is a teaspoon a day! You can also take it in capsule form.
As I tend not to eat Indian food very often, I tend to drink it as a tea and I want to share with you my turmeric and ginger tea which I have been drinking now for two years and have found to be particularly useful to keep off the bugs during the winter months. It's extremely simple to make and can be enjoyed in either the morning or the evening.
When I drink it, I tend to imagine a wall of protecting light around me, a bit like the advert for Ready Brek that some of you may recall. I've included a link to the advert at the end of this post if you're interested in what I mean.
How to make delicious healthy Turmeric & Ginger Tea
1 Green tea bag (or your tea of choice)
Hot water
I slice of fresh ginger
I heaped tsp of turmeric
1 teaspoon of honey (or more/less depending on how sweet you like it)
Step 1. Fill the kettle with water and bring to the boil
Step 2. Place the green tea bag in a mug, cover with hot water and allow to brew for 3 minutes
Step 3. Place the turmeric, honey and ginger into a blender. Here I use a vitamix or a magic bullet
Step 4. Take the tea bag out of the cup and throw away (unless you can think of another use for it)
Step 5. Add the green tea liquid to blender together with the other ingredients
Step 6. Blend on full power for 2 minutes*
Step 7. Breathe deeply and visualise the wonderful nutrients that are about to flood your system. Enjoy the drink
Optional activity*. If you're pushed for time, you could do 10 squats or push ups whilst the blender is on to get another healthy habit ticked off
Ready Brek Advert from 1980s