A number of studies have tried to uncover what's driving our collective stress levels up. Some of these are macro, where we have little control, such as the global economy, the outbreak of infectious diseases, political uncertainty and terrorism, all of which are endlessly reported by the broadcast and social media networks.
Then there are the things that affect our own personal situation: relationships; health, work, money; and major life changes such as getting married, moving house, and changing jobs. These are the things that we do have a bit of control over. And it seems that control is a big issue in stress management.
But first – what's driving our stress levels up?
Money, Work and the Economy top the list, according to the American Psychological Association's 2012 'Stress in America' Survey, with relationships, family, family health and personal health following closely behind.
---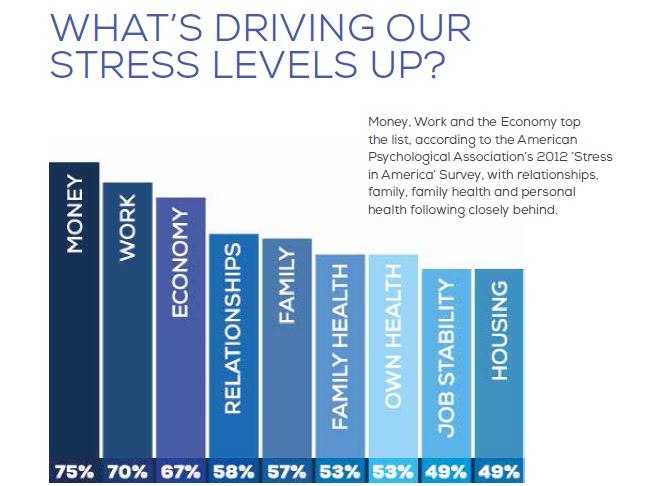 ---
Let's take a closer look at the reasons our stress levels are going through the roof at work:
In a work context, the Health & Safety Executive has identified 6 areas that can cause work-related stress:
The demands of your job – workloads, work environment

The control over your work – how much say you have in the way your work is done

The support you receive from managers and colleagues – encouragement, sponsorship and resources provided by the organisation, line management and colleagues

Your relationships at work – includes dealing with conflict and unacceptable behavior

Role – whether you understand your role within the organization

Change and how it is managed – how changes (large or small) are managed and communicated within the organisation
Researchers have also identified some common elements in situations that are driving our stress levels up – and have created a 'recipe for stress' interestingly shortened to NUTS:
Novelty – new situations never experienced before
Unpredictability – not being prepared for an event
Threat to Ego – the likelihood of experiencing shame
Sense of control – not feeling in control
---
It comes down to a belief. People believe that the more control they have over their situation, the less stressed they feel.
So what can you control? And where do you start? Why not order a copy of my new book 'Success Without Stress'?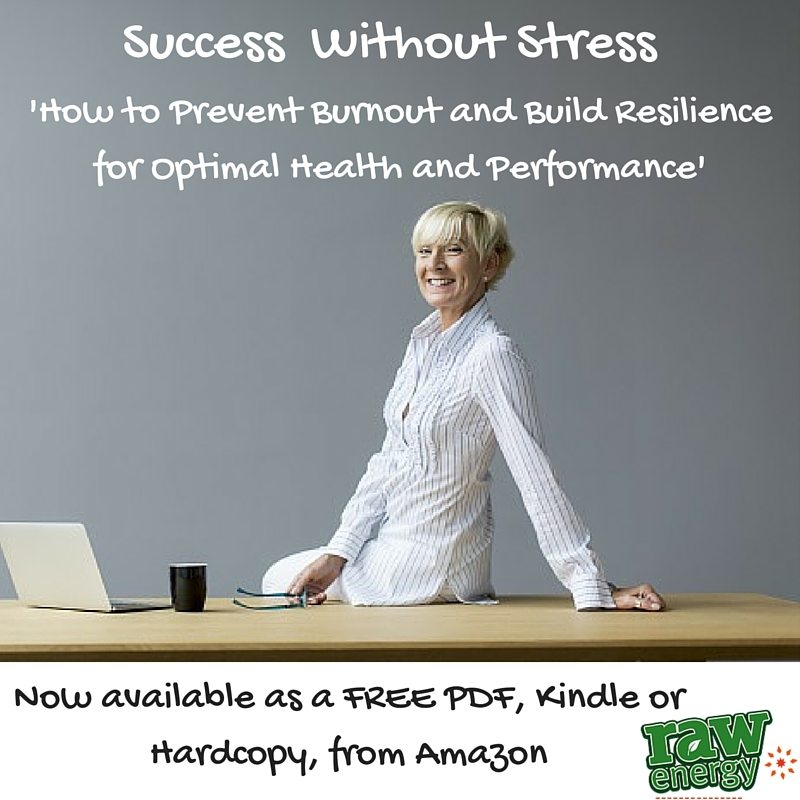 ---
You can get a copy of my new book Success Without Stress which will help you to understand what stress is, the affects on the body, what causes stress, and how you can better manage it.
Or buy a Kindle copy
(UK hard copy   is highly recommended if you want to share with your team at work.)
---
 By the end of the book, you will be in more control of your stress management.
What stress is and how it affects our bodies

How to identify the specific stressors in your life, so that you can take steps to reduce them

How to track and measure your stress levels to get early warning signs

How to spot the signs of stress in other people

The 50 healthy habits you can incorporate into your life to prevent burnout