Running is a key part of my life, and I've been running since 1997 which, looking back,  was very much the start of my transition to a much fitter and healthier me.
Before that, I was more of a junk food, zero exercise kind of person, eating for taste, smoking socially, drinking a lot and moving as little as possible. Today, i am quite different, but it all began with the decision to go running in Regents Park with Adrienne, a colleague of mine when I was working at the Financial Times in London.
Over the years I have run 6 marathons, some half marathons and many 10k runs. In this post, i really want to focus on the shoes as they are naturally very important.
The first time, I went running, it was an awful experience.  I didn't own any shoes, so I ran in converse boots which didn't get me very far!
Three weeks later, after a running test, I put on my Aiesecs 2040 which supported me well until 2009.
That same year, I read 'Born to Run' – the story of an unknown tribe in Africa who run everyday wearing 'barefoot shoes'.
The concept of running barefoot intrigued me, so I did a search for 'barefoot running shoes' and came across the Vibram Running shoes and ordered a pair.
The journey to Barefoot Running
The idea of running barefoot in the UK never seemed like an option, but when I read about bare feet shoes, shoes that fit your feet like gloves, I was keen to try them and ordered my first pair online.
When my first Vibram Five Fingers shoes arrived, I opened the box to fine glove-like, rubber shoes. They looked peculiar with separate areas for each of your toes..just like gloves. I was living in the UK at the time, and they arrived just two days before our big, two month trip to Australia which in itself was to prove life-changing (we now live in Australia).
My first run in the Vibram shoes was actually on a treadmill in LA on route to Sydney. I've run in gyms for years and no one had ever said anything to me. That day, though, my shoes attracted the attention of at least five people…and that was just the beginning. Attracting attention became a constant theme during my barefoot running years. People used to stop their cars and ask what the experience was like!
The running experience was weird at first. Having been running in shoes that supported my feet well was quite the opposite to running without proper shoes and without any support. However, I loved the light feeling, fell freer, ran faster and quickly got used them, alternating with my 'normal' running shoes at first, before running in Vibrams everyday.
Then the injuries started. The day before I was due to leave Australia in 2010 and return to the UK, I went for a run and got a sharp pain in my foot. It wasn't good and it turned out that i had torn a ligament. By this point, I had been running for 10 years and hadn't had a single injury!
It took me a full month to recover from that episode. However, despite the advice from my great Podiatrist at the time, Sally, I stuck with my Five Finger shoes and even bought a new pair, one with laces that looked more normal despite the webbed feet look.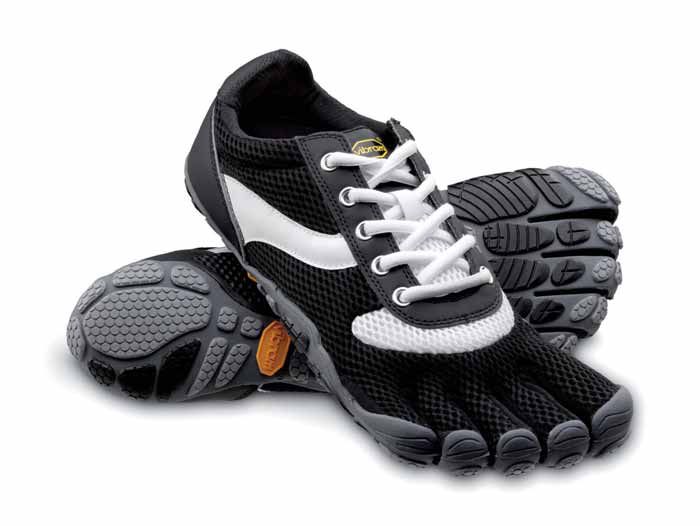 My running continued without any major problems, although many minor problems like very painful toe splits and blisters on my feet, one of which led to a nasty infection.
In time, I bought some five finger socks which helped and also took me through the winter.
I didn't run marathons in my Vibrams, but did run a lot of races – 5ks, 10ks and even the the 8.2 mile Kingston Breakfast Run.
The end of my bare foot running experience
However, disaster struck at the start of 2013 when I was in Hong Kong. I went for a run and then a got a sharp pain at the top of my foot. It persisted and turned out to be a stress fracture on the top of my foot – the third toe to be precise.
That was a miserable experience for me. It took a full 8 weeks to recover, and worst still, I was on crutches for most of that time and couldn't even walk around the block. It was frustrating to say the least.  Good things always come out of bad episodes and I used the time to experience other forms of exercise like swimming.
Whether the five finger shoes caused the fracture or not, I'm sure they contributed and led me to decide that enough was enough. I valued running far more than running bare-foot, so once i was back on my feet, I started to run in my old Aisics shoes, but it wasn't a great experience. It felt like running with 'breeze-blocks' on my feet. But in time, I discovered racing shoes that have served me well since 2013 and the good news is that i have been injury free!
If you're into Barefoot running, or thinking about giving it a go, don't be put off by my experience. Just learn from it by taking things slowly. It's important to allow your body the time to get used to a big change, and changing the shoes you run in IS a big change! I guess a couple of key lessons from my experience to share are:
1. Take it slow. Running bare foot will use muscles, tendons and ligaments which are very weak. I learnt the hard way! However, research does show that if you persist and take things slowly, running barefoot will increase the health of your feet as they will make your feet work a lot harder.
2. Avoid rocks and sharp objects as there is only a very thin layer of rubber between the bottom of your foot and the ground. Very painful!
3. Your running style will change. I'm now a forefoot runner which is completely different to when I first started and was taught to run heal first. Running forefoot feels a lot more natural to me.
Further references
Here's an article I wrote on the same top for Men's Running Magazine a few years back.