I flew to Chicago on Saturday from London; and on the flight over, was chatting to a very interesting guy who is clearly motivated to do healthier habits, but like many people, is keen to know the few things to do that will have the biggest impact.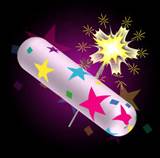 He's not into running; doesn't like going to gyms; sees food as one of life's pleasures; loves to party and, in summary, doesn't really want to change anything at all!
Having said that, he clearly wants and understands the direct and indirect benefits that a healthier lifestyle would bring him: a slimmer body; more energy; better skin and more.
In short, he's looking for the magic pill and has spent a small fortune on this quest over the years without any sustainable success.
Perhaps you too have been searching for a magic pill? Trying diet after diet without success.
Well, what if the magic pill has been here all of the time? Right in front of you. It can help you lose weight; feel better in your body; have more energy; a better skin; live longer and many other benefits, all without a huge amount of effort.
What is it?
It's something which is abundant in our society and always has been.
It's not a pill as such, it's fruits and vegetables which you can consume in so many forms.
And on this topic, I was delighted to see that Pod have started selling green smoothies.
This is great news for everyone who:
is open to drinking the odd smoothie if it helps
loves the idea of drinking green smoothies, but hasn't got round to buying a blender yet;
has bought a blender, but hasn't figured out how to use it yet;
has set the blender up, and used it once in a while..
Look, we're all human and in our fast-paced world, it's good when things can make life easier and the price to pay is a just a few £s.
Now all you have to do is drop into your nearest Pod which are growing all over central London; pick-up the green pot which is full of green leaves and fruit; hand it to the server who will blend it in front of you.
And that's it.
One new healthy routine, that will become a very efficient healthy habit if you stick with it!
And as I always say, healthy habits tend to like other healthy habits. So before you know it, that one new healthy habit will create a ripple effect in your life.
So take action by dropping into your local Pod and let me know how you get on by writing a comment below,