[vc_row][vc_column][vc_column_text]Well I am finally back in the UK after two weeks in the US for what turned out to be a trip full of inspiration; interesting new contacts and some life-long experiences. I've come back with plenty of ideas for new posts and products for you which are now in the workings, and I'm excited to work towards bringing them into the world later this year!
For today, though, I wanted to share my experience at what I call the 'Mecca of Organic Raw Plant-based Food': Pure Food and Wine.
If you're a regular visitor to Raw Energy.info, you'll recall that i set myself a New Year's goal to personally eat at 20 different vegetation, vegan or raw restaurants around the world by December 2014 and write a review on my blog for you.
To be clear, to be included, the restaurants need to be 100% plant-based restaurants, in other words, restaurants that have some good vegetarian options, but also serve meat, are out of scope!
So what did I think of Pure Food and Wine? I've been there a few times over the last couple of years. It's in a great location, situated mid-down, and there's a takeaway version just round the corner One Lucky Duck, [now closed].
The restaurant itself definitely fits into the fine-dining category. There's an indoor and outdoors section and on my three visits, the weather was good enough to sit outside on very comfy chairs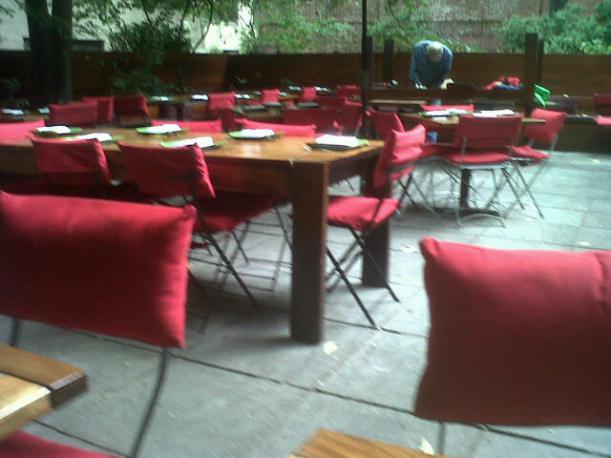 As soon as I arrived, I was given a glass of pure spring water whilst reviewing the menu. For me, it's one of those menus where I'd like to order EVERYTHING, or at least try everything!
As is often the case with me, I over ordered, having green juice plus a delicious chocolate shake (which was too much). I also had nachos (which were disappointing if you compare them to the Mexican variety); followed by a large salad which was delicious. To finish, I had the wonderful raw cheese cake, made, I believe with cashew nuts!
So in summary:
If you are fortunate enough to be in Manhattan, Do go if:
Service is important to you -the waiting staff are very knowledgeable and incredibly helpful
You love salads and putting wonderful ingredients into your body
You love drinking pure juices, smoothies and shakes
You love desserts – particularly cheese cake and chocolate cake (but don't like eating lots of refined sugar)
You're open-minded and interested to experiment
Don't go if:
You have to have meat with every meal – Pure Food and Wine is not for you
You hate salads – salads feature heavily on the menu
You're in a rush – this isn't a fast food venue, go to One Lucky Duck instead
Overall, I'd give Pure Food and Wine a 9/10. It's not cheap, but it's very much my kind of place!
So now it's your turn. Have you been to Pure Food and Wine? What rating would you give it? Let me know by writing a comment below this post![/vc_column_text][/vc_column][/vc_row]