Being inactive kills more people than smoking, and there's research to back it up.
"….. physical inactivity is killing us. Everyone knows too much booze or tobacco is bad for you, but if physical inactivity was packaged and sold as a product, it would need to carry a health warning label," (see full article below for details.)
How do I know? Well, I was walking up the stairs the other day in our Central London office when I bumped into a guy sweating heavily. Curious, I asked him if he was OK and it turned out that he was fine and was doing his daily 'stair run', incorporating functional exercise into his life, rather than going to a gym.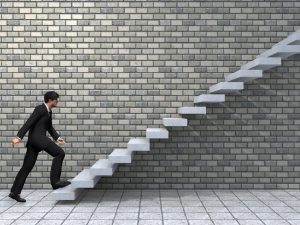 As someone who always takes the stairs (I walk up 5 flights everyday), we got talking, and I learnt that the guy was actually Andy Coghlan, a writer for NewScientist who had written a really interesting article a couple of years ago when he looked into the science behind exercise.
When I returned to my own office, I immediately searched for the article and read it from top to toe. I knew I had to put it on the blog for others to share. There's some really interesting research discussed – about the negative impact of being inactive not just about adults, but about children and teenagers too – and research also suggested that even if people didn't lose weight but simply moved more it would have enormous health benefits.  The 'being inactive' angle is really about movement – about exercise, and I don't mean running a marathon –  it's about doing anything but being inactive.  It doesn't sound that dificult does it?
Here's the science bit: Research found that (and I quote directly from the article)
'a lack of cardiorespiratory fitness was the most important risk factor for early death. It accounted for about 16 per cent of all deaths in men and women over the period of study, more than the combined contributions of obesity, diabetes and high cholesterol, and double the contribution of smoking.'
Coughlan's piece takes an interesting angle – offering the solution (exercise) to be considered a medicine – a pill to 'take'. So if you could take a pill that could save your life – you would, right?
Guess what? There is a solution for being inactive. This 'pill' is available, but there's a catch…… you will need to get off the sofa and move your body to take it, and for the medicine to work.

And the good news is that you don't have to become an athlete if you don't want to! Just stop being inactive!
Andy says "As for me, the stair-run does seem to be working, although I don't have health data from eight years ago to confirm my progress. Scans and tests last month showed my blood pressure and bone density are normal, and I have 6 per cent less body fat than is average for my age. Also, only 20 per cent of my fat is the dangerous sort around organs in the abdomen, compared with 30 per cent in most of my peers. My heart fitness, measured on a treadmill, is above average and I have no chronic diseases that I know of. "
Now, imagine you were offered a pill that did all that. Wouldn't you take it?'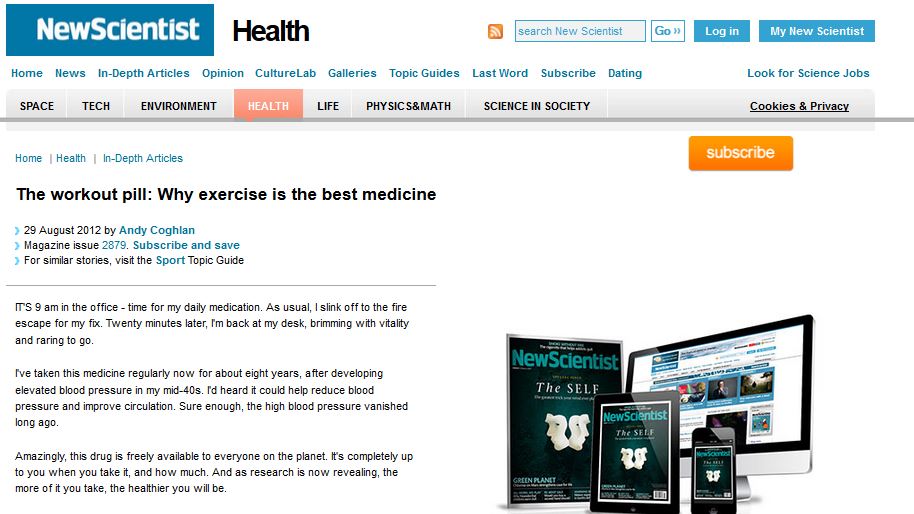 Here is the article in full:-
This article was first published in Newscientist who research and write regularly on  the science behind all aspects of health and nutrition, much of which has been brought together in The Scientific Guide to a Better You.
'The workout pill: Why exercise is the best medicine. By   Andy Coghlan