Last month, I was chatting to another coach, Helen, and was telling her about my aching bones.
As many of you will know, I run a lot and over the last 12 months have suffered a lot! A stress fracture in my foot; a tear in my calf muscle and knee problems on both sides.
I've been seeing a great physio, Dennis, who has taught me much and, amongst other things, helped me to get a much better system for stretching my legs into my routine (which I now do religiously). However, the condition is chronic and when so many people keep telling you that 'it's your age'.. well you start to believe them..
Then, purely by coincidence, I was talking to another coach about something completely unrelated, when the topic of running and aching bones came up.
Helen asked me whether i'm aware of the benefits of MSM (methyl-sulfonyl-methane, an organic sulfur compound).
I said: 'Sure, I'm aware and take it everyday'.
Then came the magic question: 'how much do you take?'
and I replied: 'One teaspoon'.
To cut a longish story short, Helen advised me to take more than 1 teaspoon. A lot more. And after a bit more research to validate her advice, I have upped my dosage to 3 TABLESPOONS of MSM every day.
I take it with freshly squeezed lemon and ginger and water every morning and it seems to have had quite a dramatic impact..
I only realised it today to be honest, when I went for my third consecutive run this week. On the way back, it struck me. No pain at all!! And not only that, but I haven't experienced any pain all week. In fact I feel like I used to feel! Perhaps it's a big coincidence, but i don't think so.
Now, there's always a downside and for one, I am not going to pretend it tastes nice. It doesn't. It's hideous, in fact…well in my opinion. But if it helps with my joint and muscle pain, I will be continuing to take it for sure.
Is MSM for you?
The MSM compound is the third largest nutrient found in the human body and is an ingredient found in quite a few foods: meat, dairy products as well as vegetables.
According to Dr Mercola, you might want to consider using some supplemental sulfur sources such as MSM if you have any of the following conditions:
Chronic inflammatory conditions
Aches and pains / sore muscles and achy joints
Premature aging symptoms
Toxicity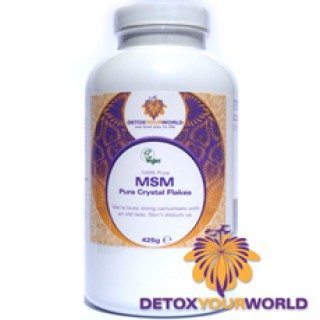 As with all supplements, take care to get a good quality brand. I use the MSM Pure Crystal Flakes from Detox Your World.
For further reading on the benefits or side-effects of MSM, below are links to some useful background research:
5 Important ways MSM could benefit you
MSM: indispensable for joint and muscle relief
MSM overview